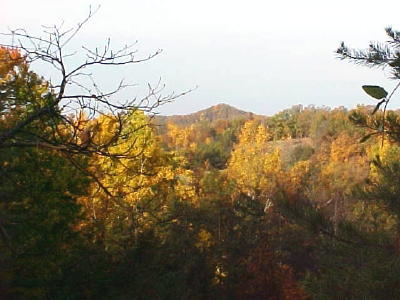 For miles you can spot the high-peak Paulcer's Knob, where
Civil War soldier Paulcer McCune hid out after going AWOL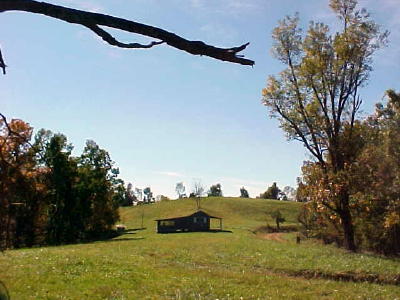 The backwoods road is a reminder of what once was,
about fifty families residing on the ridge or either side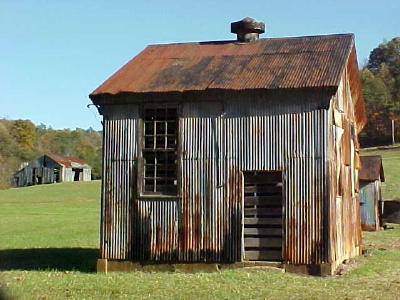 The Husk stretches from the Village of Hur to the Village
of Richardson, once a vital trading spot on the West Fork,
now with only a few abandoned buildings
By Bob Weaver 2005
We returned this week to one of our backwoods altars near the Village of Hur - the Husk Ridge.
Since the exodus of farmers from the Husk, mostly after World War II, the once populated ridge is void of permanent humans.
Little has changed along the six-mile ridge road that meanders between Hur and Richardson, except its woods continue to become denser.
I thought of my grandmother Mary Virginia Riggs riding her horse around the ridge to Richardson, a once thriving community, after her marriage to John Ira McCoy in 1895 when they started her family in the Village of Hur.
Before her death in 1976 at age 100, she often spoke of that journey, needing food or cloth for clothing, and visiting the stores in that long-gone village before Hur was established as a shopping center.
Richardson had other amenities beside its large mill and general stores, including a doctors office, hotel, livery, blacksmith shop and barber.
I also thought of Paulser McCune, whose high "knob" is visible for miles in either direction and whose claim to fame is going AWOL during the Civil War and returning to Hur to hide-out in a cave near his home at the base of the tall hill.
A small rebel band came looking for him, but he managed to live in a cave, eluding capture.
But mostly I thought of the Husks, Tuttles, Carpenters and Coons, among many others, who made their lives on the ridge or on either side, all gone.
If you would like to visit this place, you may click:
THE HUSK - A Backwoods Altar
FROZEN ON THE HUSK - No Matches To Be Found
RUBBIN' AND SPITTIN' - Snuff Box Glory
SUNNY CAL JOURNAL - Clutching To Memories Of The Husk
YOU HURRY, I'LL WALK SLOW - A Husk Family Story
For other photos and stories use SEARCH