PHOTO JOURNEY DOWN THE PIKE

By Bob Weaver 2005

Hur Herald Photos

One of West Virginia's most famous roads, whose construction began in 1838, is now an official scenic highway.

The Staunton-Parkersburg Turnpike, known to most Calhouners as Route 47, has long been connected to the county's life and times, but because of its closeness, many have little awareness.

The Turnpike, from frontier days through the Civil War, is a road that was built over 185 years ago to link Virginia's upper Shenandoah Valley with its western boundary on the Ohio River at Parkersburg.

From the historical significance of its construction, it has played a key role in moving people and property over the Appalachian Mountains.

Calhoun residents, during most of the 1800s and early 1900s, used the turnpike to go to Parkersburg or Clarksburg, hitting the road at Smithville or Macfarlan.

Now, the West Virginia's section of the Staunton-Parkersburg Turnpike has become one of 45 new National Scenic Byways.

The 180-mile route follows US 250 from the Virginia border, across Cheat Mountain to Huttonsville, where US 219 follows the old turnpike north to Elkins.

It is a great road trip, certainly including the Virginia end through Highland County.

Traveling westward from Elkins, US 33 runs into Lewis County, where it becomes state Route 47 through the farm country and foothills of Gilmer, Ritchie and Wood counties, leading to Parkersburg.

The original Staunton-Parkersburg road followed Indian trails, using contour-hugging curves and switchbacks to keep the turnpike's grade below the required 4 percent so it could be used by oxen-powered freight rigs.

Construction began in 1838 and continued until 1848, when the last bridges were completed. Early travelers were charged 25 cents per wagon, team and driver to use the toll road.

Some historians say it played a role in the political dissension that led to the formation of West Virginia during the Civil War.

Tourism is expected to get a boost now that it's been designated as a National Scenic Byway.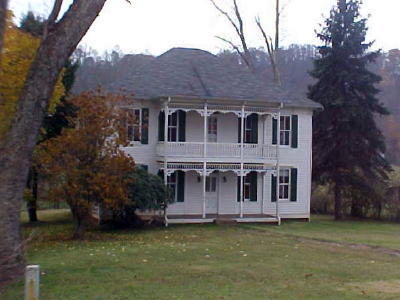 FARNSWORTH HOUSE - Between Troy and Linn. James Farnsworth, father to our second Governor, lived and died here on the 300-acre farm. The Turnpike brought prosperity to his family when they built a tavern on the opposite side of the road to serve passengers traveling the Turnpike, and a cattle weighing station for drovers moving animals for sale in Weston.
RACKET - A long-gone village on the Gilmer-Ritchie County line. A wood frame building that was the Racket store and post office (established in 1904) still exists. Racket may have gotten its name from the noise of the crowds who came to watch boxing matches. Nearby is the grave of a Scotsman killed while building the Turnpike. Between Racket and Burnt House is an abandoned gas compressor station once owned by Carbon Carbide.
FLING HOTEL (Harris Tavern) - Burnt House's most notable landmark. Original Harris Tavern built about 1836, with members of that family murdering traveling salesmen and then fleeing west. In 1852 the original structure burned - the "burnt house" - and in 1859 Henry Fling rebuilt the structure as a hotel. The site was a stop-over for the Underground Railroad. Today, it is lovingly owned by John and Carol Rymarz.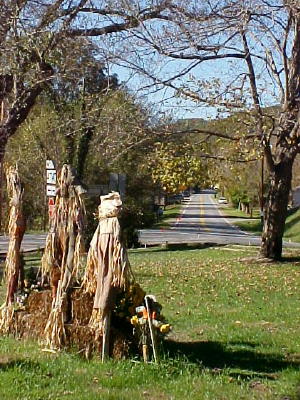 BURNT HOUSE - The road leading into Burnt House, well on its way to becoming a ghost town. The post office was established in 1875. In Lowther's 1911 "History of Ritchie County" it said "The village now has two hotels, two general stores, a mill, blacksmith and wagon shop, saddle and harness shop, post office, a lodge hall where three lodges meet and one physician."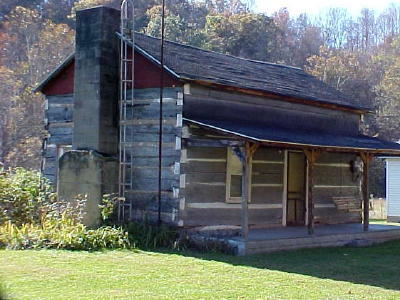 TOLL GATE HOUSE - The Toll Gate house is just east of Thursday (a Ritchie name place), a log house used for a toll gate for the Turnpike. The gate keeper lived in the house and collected tolls from people and animals using the road. The actual gate was a pike or long pole on a pivot that blocked the road until a toll was paid, then the keeper would turn it to allow passage. This is the origin of the word Turnpike.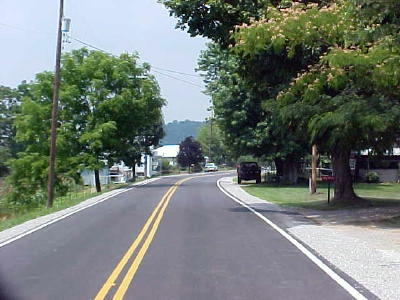 SMITHVILLE WAS EARLY TOWN - Located at the junction of State routes 47 and 16, it was Ritchie's second post office, established in 1827, originally named Lowman, and was given the name of Smithville in 1843, named for Barnes Smith.
Lowther's 1911 "History of Ritchie County" says the town included two hotels, two churches, one parsonage, a two roomed school, two general stores, a hardware and undertaking establishment, post office, a telephone exchange, a barber, two blacksmith shops, a milliner and dress maker shop, two physicians, two lodges and a new pump station.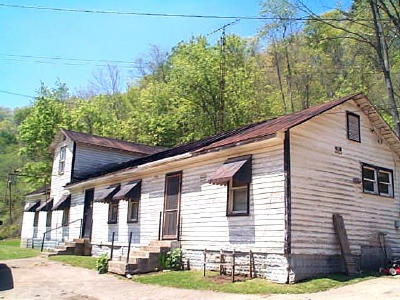 MACFARLAN ROAD HOUSE - Macfarlan, during the 20th century, had a reputation for road houses, but its history is much greater, including the nearby Ritchie Mines, crystallized oil or asphalt found in only one other place in the world, a destination for an early narrow gage railroad
Several stories under PEOPLE, HUMOR, HISTORY along the Turnpike.