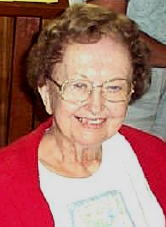 Eloise Gunn Divers, 87, of Grantsville, West Virginia, passed away September 26, 2005 at Minnie Hamilton Health Care Center, Grantsville, following a long illness.

Born in Calhoun County, she was a daughter of the late P.P. and Lottie Smith Gunn. She was a graduate of Glenville State College and earned her masters degree at West Virginia University. She was a well known Calhoun County educator and teacher.

She began her teaching career in a one room school, known as Riverside School at Creston, Wirt County, where she taught one year. She then taught at Calhoun County High School for 40 years until her retirement. She was a member of the West Virginia University Alumni Association, Delta Kappa Gamma Academic Sorority and the First Baptist Church of Grantsville.

Surviving are a nephew, Donald P. Gunn and his wife Sherry; nieces, Billy Rose, Susan Glass and Charlotte Meuwissen; great nieces and nephew are Dayna Gunn, Laura Glass and Andrew Forrest Glass; sister-in-law, Joann Gunn

In addition to her parents, she was preceded in death by her husband, Willis Divers, and three brothers, Dale, Donald and Forrest Gunn.

Funeral services will be held 11:30 a.m. Thursday, September 29 at Stump Funeral Home, Grantsville. Rev. Greg Swisher will officiate. Interment will be in the Bethlehem Cemetery, Grantsville.

Friends may call from 6 to 8 p.m. Wednesday at the funeral home.

In lieu of flowers the family requests contributions be made to Minnie Hamilton Health Care Center in memory of Mrs. Divers.