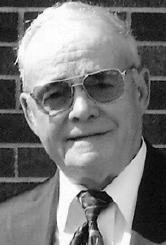 Ora "Jack" Ashley, 79, of Gandeeville, West Virginia, died Saturday, September 17, 2005, in the CAMC - Memorial Hospital, Charleston, after a short illness.

He was born June 7, 1926, at Amma, a son of the late George Washington and Gertrude Samara Reed Ashley. In addition to his parents, he was preceded in death by his first wife, Phyllis Jeanne Bird Ashley in 1999; five brothers, Rex, Max, Oral "Dick", Frank and Junior Ashley; four sisters, Frances Summers, Bernice Lovsey, Doris Moore and Clara McQuain.

Mr. Ashley was a retired sales manager for Garrett Tires, Charleston. He was a Marine Corps. Veteran and attended the Gandeeville Community Church, Gandeeville. Also, he enjoyed gardening.

Survivors include his wife, Jackie Ashley of Gandeeville; three daughters and sons-in-law, Jackie and Pete Burdette of Charleston, Debbie and Mike Jones of Crestwood, KY, Vicki and John Nichols of Gandeeville; one son and daughter-in-law, Ronnie and Scarlett Ashley of Nashville, TN; six grandchildren, Brian Jones of Arlington, VA, Misti Jones Matheny of Spencer, Jennifer and Jessica Nichols both of Fairmont, Tyler and Kyle Ashley both of Nashville, TN; step daughters, Demeris Chappell of New Smyrna Beach, FL, Jean Fox of Orlando, FL, Charmagne Shorette of Auburndale, FL, Miriam Millard of Pennsylvania and Anita Whatley of Florida; step sons, Philip Chappell of Kissimmee, FL, Greg Chappell of Orlando, FL, Preston Chappell and Mathais Chappell both of North Carolina and Stanley Brannon of Florida; 17 step grandchildren and 13 step great grandchildren; two sisters, Karolyn Surface of Vienna and Clarice Snodgrass of Parkersburg.

A funeral service will be conducted Tuesday, September 20 at 1:00 p.m. in the John H. Taylor Funeral Home, Spencer, with the Rev. Tim Ashley officiating. Burial, with military graveside rites accorded by members of the American Legion Post 21, Irvin F. Conley V.F.W. Post 5783 and Mid-Ohio Valley Chapter 615, Military Order of the Purple Heart, will be in the Snodgrass Cemetery, Gandeeville.

Friends may call at the funeral home from 6-8 p.m. on Monday.