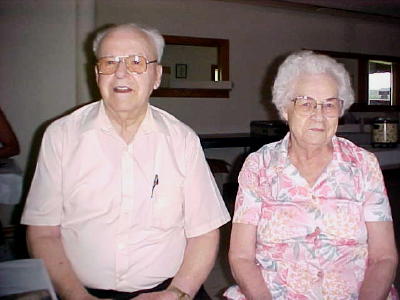 Cleburn and Flara Kerby Gherke, 96,
of Grantsville have been married 76 years (Hur Herald Photo 2005)
One of Grantsville's oldest residents, Cleburn L. Gherke, 96, has died at Minnie Hamilton Health Care Center on April 23, 2006.
Services are scheduled for 2 p.m. Thursday at the Stump Funeral Home in Grantsville, with Elder Mark Minney and the Rev. Curtis Smith officiating.
Burial will follow in the Collins Cemetery at Stumptown, with the Rev. David Vanhorn officiating. Friends may call from 6-8:30 p.m. Wednesday at the funeral home and one hour prior to the service.
He was married to Flara Kerby Gherke for 76 years, one of the longest marriages in the county, who survives.
Cleburn was of the Calhoun Gherkes, descendants of Charles (born 1790) and Wihelmia Nitz Gherke (born 1820), who came to this country from Germany and settled along Steer Creek. Cleburn's father was Claude Gherke, who lived to be 98.
Cleburn was born at Rush Run, Calhoun County, the son of Claude and Leota Gherke. He retired from Cabot and was a member and deacon of the Lower Steer Run Baptist Church.
In adition of his wife, he is survived by his wife by his children and spouses, C. Eugene and Joan Gherke of Millsboro, Del., Marge Gherke of Grantsville, Pauline VanHorn of Sissonville, Jurlene and Bill Thorn of Spencer, Radene and Bill Kuhl of Walker, Lorene and David Hathaway of Elkview, Arlene Kay and Russell Smith of Williamstown; and grandchildren, great-grandchildren and great-great-grandchildren. He also has one surviving brother, Oless Gherke of Virginia.
In addition to his parents, he was preceded in death by a son, Ardene Gherke of Grantsville; a son-in-law, Ardith VanHorn of Sissonville; sisters, Cathern Pearl Gherke and Thelma Pickles; brothers, Arlan, Olin, Oran and Ira Gherke.