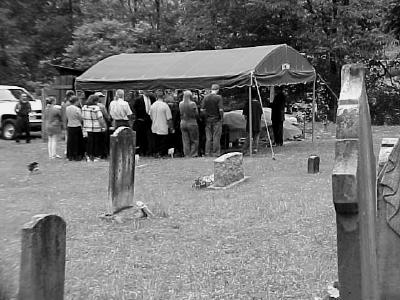 Pauline was laid to rest close to home, near a great-grandfather
who came to Sunny Cal in 1849, tombstone to the right
LIFE IS OLD HERE
By Bob Weaver 2005
There is a saying that home is anyplace you can hang your hat, but for most mountain people, it has been much more.
Calhoun native, schoolteacher and minister, the Rev. Glendon McKee, once said "As far as I knew, my world ended at the farthest hill I could see" - close to home.
In the 21st century, most citizens move to urban areas to attend college, get a job and start a career, it is difficult to imagine that families once bloomed where they were planted.
Moving would have meant to the next hill or holler.
My grandmother Virginia McCoy said she was told a horse shouldn't break a sweat gettin' to where her kids lived.
In the Appalachians, the late West Virginia author John O'Brien wrote that we tend to look back more than most Americans, set in our ways, defining how we fit into the world through our families and the land upon which they lived.
The "Who are you?" question has been answered by mountain people these past few hundred years to reflect ancestral connections and a place upon which they lived. Now, the question is answered by revealing what people do for a living, or other personal accomplishments.
O'Brien, author of "At Home in the Heart of Appalachia," died after his book was nominated for a Pulitzer Prize. We had the pleasure of meeting him and speaking about life in these hills.
O'Brien said mountain culture "feels old" and is deeply rooted.
Such thoughts came last week at the burial of Pauline Craddock Hamblin, down on Barnes Run. As the crow flies, she never got far away from her Bee Creek origins, a wild and remote area close to the Joker Ridge.
Pauline's brother, Averil, once said to me "I never got far away from here and never cared much about going."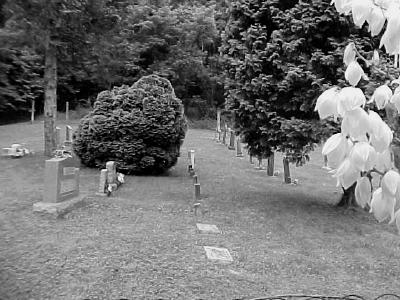 The Slider Cemetery represents a place on the earth
from which sprung hundreds of Calhoun citizens
She was buried in the Slider Cemetery where her times-over great grandfather, Jacob Slider, was laid to rest. The Slider Cemetery, and the Gibson Cemetery across the hill on the lower West Fork, is the burial place for most of her family, the Craddocks and the Sliders.
Jacob Slider came to the creek bottom on Barnes Run in 1849, a few feet from the Slider Cemetery where he is buried, and helped his daughter Kisare and her new husband David Riggs build a log cabin. David, Calhoun's original Riggs, died ten years later rafting logs down his creek.
This point of origin, their place called home, is from which sprung hundreds of Calhoun descendants.
For the next 125 years, few lived far from these roots.
In this new millennium, mountain people will continue to be scattered to the wind in many places they'll call home, often moving from job to job, state to state.
Home will no longer be a place in which to return, but a place toward which one is always moving.
Home will reflect a more global existence, a place represented more by the people who live inside a dwelling rather than the structure or the place upon which it is built.
Even less represented will be a sense of community, because it is ever changing.
Maybe we will all become citizen's of the world, un-rooted and free-flowing.