Submitted by Terry Harris with the attached note:
Randy spent his high school years in Calhoun County and graduated in 1969. He moved here in the 60's when his dad was assigned to be the Conservation Officer. He attended his class reunion last fall. He was a great guy and friend to all who knew him.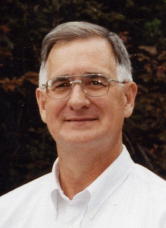 Randolph B. Gainer left his home on earth and returned to his heavenly home on July 8, 2005. All who knew him have been touched by his big hands and his big heart. He always brightened the mood of those around him with his heart-warming jokes and his touching concern. Randy leaves behind the legacy of a loving family, many close friends, and countless others whose lives he has touched.
Randy was born on February 25, 1951, to Jerry and Ruth Gainer. He was the middle child of three sons and cherished the time he spent growing up with his brothers, Willis and Dan, in the woods of West Virginia. He was an avid outdoorsman.
He spent the last 25 years of his life in dedicated service to his family, his church, and the boy scouts. He spent many years on the Great Salt Lake Counsel, served on the Draper City Counsel, and left his ward family while serving as their bishop.
Randy leaves behind precious memories that will be cherished by his wife, Judy B. Gainer, and his eight loving children, Will, Chris, Dave, Heather, Heidi, Emily, Lizzy, and Danny. We love this dear man as a husband, a father, a brother, and a friend. This world will miss the warmth of Randy Gainer.
Funeral services will be held Tuesday, July 12, 2005, at 11:00 a.m. at the Corner Canyon Stake Center, 1300 E. 13400 S. A viewing will be held on Monday, July 11, 6:00-8:00 p.m. at Jenkins-Soffe South Valley, 1007 W. South Jordan Parkway (10600 S.). Interment will be at Larkin & Sunset Gardens.
In lieu of flowers, donations are being accepted at Zions Bank for the Gainer Family Children's Fund.