IT MADE A BIG SPLASH ON SOCIAL MEDIA 2005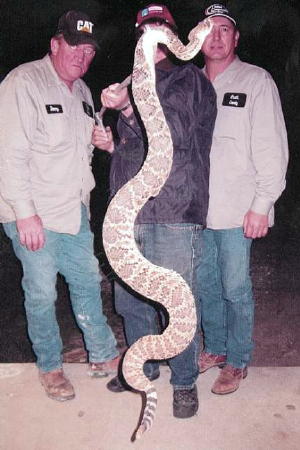 The "West Virginia Rattlesnake" photo that has appeared in the Clay Communicator, the Hur Herald and on just about every other web site known to man, is like a fish tale that gets bigger with each telling.
The photo of three men and a giant rattlesnake has been passed around on the Internet and hard copies have been posted at work sites all over the place.
The captions accompanying the picture claim the snake was found in Clay County, but no one in Clay County knows the folks in the photo.
Some captions say it is eight feet long and weighs 50 pounds, while another account said it weighed 118.
A snake expert said it's likely no more than a ten-pound snake held close to the camera, and it certainly is not from West Virginia.
Bruce Means, the executive director of the Coastal Plains Institute and Land Conservancy in Tallahassee, Florida, says the snake is a western diamondback rattler. None live east of the Mississippi River.
Means says the photo is pure bunk.
Keith Bartley, who works for Fola Coal in Clay County, agrees. That's where the snake was supposed to have been found.
Bartley says if there really was a snake like that on Fola Coal's property, he wouldn't go back out there.
It's unclear who took the picture and where, or how the West Virginia connection came to be, although the Clay Communicator reported the photo hung in a county store in that county for several years.
Now, it certainly has reached a level of fame, bunk or not.