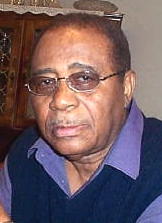 Dr. Rev. Walter Truss, Jr., 83, of entered peacefully into rest after an extended battle with cancer, at his home in Grantsville, West Virginia where he was a resident for the past 5 years.

Born in Margaret, Alabama, July 18, 1921 he was the only son of the late Walter Truss, I and Birdie Truss-Turner.

In 1937 he moved to Warren, Ohio and resided with his aunt Queenie Moore. He was a Veteran of the US Army-Air Force during WWII. He served 3 1/2 years in North Africa, France and Italy. He made a career in the US Air Force and retired with 22 years of active service as Master Sergeant from the Vienna-Youngstown Air Force Base.

He was a graduate of Warren G. Hardy High School. He attended Grantsville Bible College where he receives his Doctoral degree in Divinity. He was pastor of Glorious GOGIC for 17 years, 10 of which he was Superintendent of Warren District 2, under the leadership of Bishop F.E. Perry.

In 2001 he moved to West Virginia and on August 13, 2001 married Kathryn Sampson, joined Victory Baptist Church and ministered in God's word and song. On July 18, 2004 he began a new ministry with Spencer Tabernacle, preaching and singing for the Lord, where he and his wife Kathryn are members. His sole purpose for living was to see a soul saved and see a smile on someone's face.

He is survived by his wife, Kat of 5 years; sisters, Mildred (Paul) Whitthorne, Queenie (Seldon) Griffin of Memphis, TN, and Gwendolyn(Ralph) Looney of Ragland, AL; sons, Michael (Martha) Truss, Walter Truss, III, Wayne (Renee') Truss, William (Cassandra) Truss, Robert (Karen) Carter of Warren, OH, and Jeffery Carter of Grantsville; daughters, Patricia Byrd, Joanne Warren of Charlotte, NC, Beverly (Juan) Hernandez, Rosetta (Darryl) Cowan of Warren, Chris Austin of Grantsville, and Rebecca (Eddy) Miller of Warren; 31 grandchildren, 3 great grandchildren; and many nieces and nephews, cousins, neighbors, and church family and friends.

In addition to his parents he was preceded in death by his step-father, Mose; 2 sisters, Bessie and Lila Mae; brother Mose, Jr.; wife of 62 years, Helen Smith Truss; son, Bruce Truss; Aunt Queenie Moore; cousin, Raymond "Getzalee" Lathan, which was like a brother.

Friends will be received in Warren, Ohio at 1092 Martin Luther King Drive, home of his son.

Funeral services will be held 10 a.m. Tuesday, June 7 at Stump Funeral Home, Arnoldsburg, where friends may call from 6 to 8 p.m. Monday. Rev. Ken Heiney will officiate.

Friends may also call at Sterling McCullough-Williams Funeral Home in Warren, Ohio from noon until 2 p.m. Wednesday.

Interment will be in the Oakwood Cemetery at Warren.