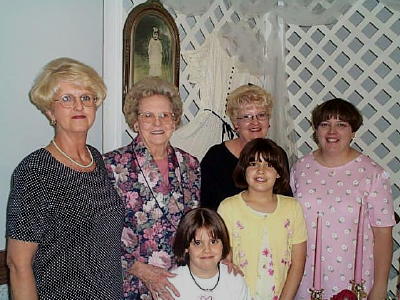 Four generations (L to R) JoAnn Stevens, Gertrude Propst,
Mary K. Wilson and April Miller (front) Mikayla and Kaitlyn Miller
Gertrude Little Propst, 85, of Grantsville, West Virginia, went home to be with the Lord after a short illness on Sunday, May 15, 2005.
She was born July 27, 1919, to the late Lewis and Nellie Elliott Little. She was married to Millard "Bud" Propst for 65 years until his death in 2004. They were the proud parents of two daughters, JoAnn Stevens of Grantsville, and Mary K. Wilson of Vienna, and one son, Mike Propst of Grantsville.
Gertrude was preceded in death by one son-in-law, one sister and seven brothers.
She was a member of Mt. Zion United Methodist Church, where she taught Sunday school and was active in the United Methodist Women. She worked 16 years at the Mt. Zion Farmer's Market.
One of her greatest joys was her three grandchildren, April Miller of Millboro, VA, Carrie Propst of London, KY, and Zack Propst of Grantsville. She also enjoyed visits from her two great-granddaughters, Kaitlyn and Mikayla Miller. She was also loved and admired by several nieces and nephews.
Funeral services will be 11 a.m. Thursday at Stump Funeral Home, Grantsville, with the Rev. Rick Swearingen officiating. Interment will be in Mt. Zion Cemetery.
Visitation will be 6-8 p.m. Wednesday at the funeral home.