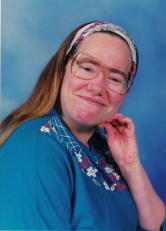 Patricia Goekler, 42, of Akron, Ohio, went to be with the Lord April 28, 2005.

She was a devoted member of the Salvation Army.

She was preceded in death by her father, Robert Bennett, a brother, Roger Bennett and her grandmother, Hazel Hughes.

Surviving are her husband, George Goekler; a son, James Goekler; her mother and step-father, Dave and Mary Camden; sisters, Hazel and Roy Parle, Betty Stecyk and Steve Stockton; and a brother, James Bennett, all of Akron; many nieces and nephews, aunts and uncles.

Funeral services will be held 1 p.m. Wednesday, April 4 at Stump Funeral Home, Arnoldsburg. Captain Lynda S. Butts will officiate. Interment will be in the Hur Cemetery.

Friends may call at the funeral home from 11 a.m. Wednesday until time of the services.