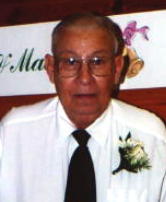 Gailey Price, 71, of Spencer, died Tuesday, April 12, 2005, in the Roane General Hospital, Spencer, after a six year battle with cancer.

He was born November 29, 1933, at Cabin Run, Calhoun County, a son of the late Charley L. and Maggie Marks Price.

In addition to his parents, he was preceded in death by four sisters, Rosa Parsons, Jewell Brooker, Ruby Wallace and Evadine Price; five brothers, Cleon, Oral, Oris, Glennie and Eugene Price.

Gailey was a retired 23 year employee of Pennzoil and a member of the Teamster's Union, Local 175, Charleston. He was a Christian and attended the Good Hope Baptist Church, Reedy. He enjoyed woodworking.

Survivors include his wife, Madge McKown Price, whom he married September 5, 1959; one sister and brother-in-law, Thelma and Wayne Dowler of Parkersburg; several nieces and nephews.

A funeral service will be conducted Friday, April 15 at 1:00 p.m. in the John H. Taylor Funeral Home, Spencer, with Pastor John Price and Pastor Charles Davis officiating. Burial will be in the Good Hope Cemetery, Reedy.

Friends may call at the funeral home from 5:00-8:30 p.m. Thursday.