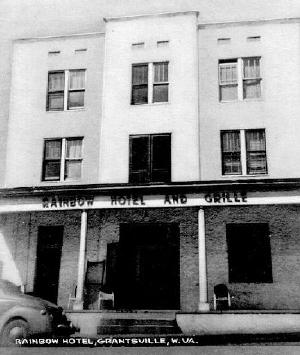 Rainbow Hotel and Grille during better days about 1950
(Photo Courtesy of Sandra Stevens Marshall)
By Bob Weaver 2005
The Rainbow Hotel holds memories for a few older Calhoun citizens, now a decaying shadow of a more prosperous time.
Former Grantsville Mayor Neil Blankenship said as a country boy he came to town and stayed in a room, likely during the last days it was in business.
"I thought it was a pretty nice place," said Blankenship. The hotel had one of the best soda fountains in town and sweethearts from the old Calhoun County High School would "hang out" in the evening and listen to the juke box. The music machine had remote boxes at each of the tables, a nickel a song.
Grantsville had a number of hotels before and after 1900, mostly converted houses.
The greatest vision for a fine hotel was in the late 1800s, the "Shadewood Springs Resort," to be built on the county fair grounds, now known as Wayne Underwood Field.
Dr. T.B. Camden said water on the property is the best found any where. "It has already effected marvelous cures, the most health-giving water in the county," he told developers Jerome Hardman and Judge Blizzard.
Hardman and Blizzard prepared a map for the development and a newspaper account said a "splendid new hotel will be built with baths and fountains arranged."
Shadewood Springs was contingent on the driving of the first spike for the Little Kanawha Railroad.
"Parkersburg will then have at her doors a health-giving resort, second to none in the world, where the sick can come to be cured and where the well can come to enjoy themselves in Grantsville, West Virginia," said a notice.
The railroad spike was never driven, the resort never built.
The next best thing was the Rainbow Hotel.
A newspaper account in 1919 said with the sale of the Home Hotel by W.H. Stalnaker to Geo. W. Hamilton, and Miss Nettie Stump's action in taking down her hotel sign, Grantsville was without adequate means to meet the demand of the traveling public.
The only hotels left were run by Mrs. Belle Jeffreys and M.D. Fogle, and "these are always crowded beyond their capacities."
Enterprising Grantsville men began to strongly discuss a proposition to organize a corporation and put up a large first-class hotel building.
"There is no doubt that such an investment would be a paying one, for there was never a greater demand for a large hotel in this town," said an account.
"If Grantsville is going to make any effort to hold up its present business stride, the people must get busy. It is up to us to look ahead farther than we have been, and no better beginning can be made than to build a good, roomy, first-class hotel."
By 1921 the new hotel building, later named the Rainbow, was practically completed. The finishing touches were put on by carpenters W.H. Stump and J.B. Huffman.
"The building is beautiful inside and out and would grace a much larger town," said an announcement. The board of directors went on a search for a manager.
The hotel was operated for many years by Bruce Lowe, and its Grille was a popular place for many years, through the Great Depression and World War II.
It was on the porch of the Rainbow that attorney Lorentz Carr Hamilton met with Robert Kennedy to help JFK win the county in the 1960 presidential election. They sat on the old swing and hatched the "winning deal."
Hamilton said years later that every election cycle, politicians and political factions, would put up money for vote buying, a practice that continues in southern West Virginia.
"Vote buying was a "necessary" part of the deal," Hamilton said.
He said Robert Kennedy asked how much money would be needed for Calhoun, after which Hamilton said he was uncertain.
Kennedy went to a car trunk and came back with $10,000.
During its last days, the hotel was closed and the eatery remained open.
Calhoun resident Shirley Gregory (now deceased) recalled working at the Rainbow in 1961 for Bruce Lowe, after graduating from Calhoun High. "It was a great place to eat and visit," she said, earning $2.32 an hour.
"I worked the split shift, opening at 5 am and working to 11 am and then went back in the afternoon and worked to closing time."
"It was where I met my husband of 50 plus years. He came into town to put the dial system in for the phone company," she said.
"It is sad to see it look like it does today," she concluded. The building is now a decaying ghost, waiting for its collapse, and the Town of Grantsville does not have means to demolish and remove it.