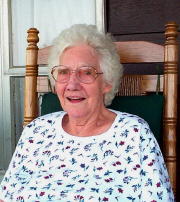 Grace Opal Connolly, 96, of Jacksonville, Florida, formerly of Grantsville, West Virginia, passed away April 7, 2005 in Jacksonville.

Born in Calhoun County, she was the daughter of the late William Edward Nichols and Sarah Elizabeth Whytsell Nichols. She was a homemaker and was a former member of the Richardson Methodist Church.

Surviving are two daughters, Marge Fowler of Grantsville and Eileen Fowler of Huntington; 1 son, Jack Connolly and his wife Jennifer of Jacksonville; 1 half sister, Geneve Eagle of Mt. Zion; 10 grandchildren and 24 great grandchildren.

She was preceded in death by her first husband, John Ball, her second husband, Jack Connolly; a son, Johnny Ball; 1 brother, Buford Nichols and a sister, Audrey Riggs.

Graveside services will be held Sunday, April 10 at 2 p.m. at the Mt. Zion, Cemetery, Mt. Zion. Rev. Kenneth Heiney will officiate. There will be no visitation.

Stump Funeral Home, Grantsville is in charge of arrangements.