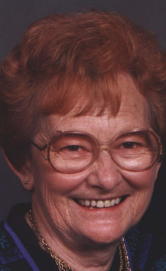 Madeline R. Harris, 82, of Spencer, West Virginia, died Wednesday, March 30, 2005, at home.

She was born December 20, 1922, at Tariff, WV, a daughter of the late Robert and Geraldine Smith McGlothlin.

She was retired from the former Spencer State Hospital, Spencer, with 27 years of service. She was a member of the American Legion Auxiliary Unit 21, the Rebekahs Lodge, the Hospital Employees Union, and was a Baptist.

Survivors include her husband, Harry L. Harris; sister, Jo Sams of Ohio; two nieces and one nephew.

A funeral service will be conducted Monday, April 4 at 2:00 p.m. at the John H. Taylor Funeral Home, Spencer, with the Rev. Jack Roberts officiating. Burial will be in the Mt. Zion Cemetery, Gay, WV.

Friends friends were recived at the funeral home from 6-8 p.m. Sunday.