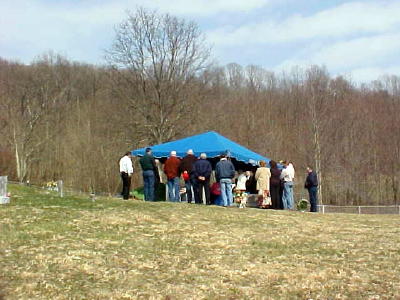 Calhoun "man of the sod" Donzel DeWeese was laid to rest
after the Milo church was packed with family and friends
By Bob Weaver 2005
Sitting on the bench of Charley Starcher's Store at Hur, old-timers would joke with folks who rarely left their abode, yelling "You outta git out of the holler!"
Most would reply they had no good reason to get out, most of the time.
Grover Starcher's brother Anderson "Son" Starcher walked up Buckhorn Hill to Will Sturm's store at Hur a few times, but didn't return to Hur for several years until they brought him back for his funeral.
During the 1940s, my family went to town from Hur about every Saturday with their eggs to trade for groceries at the A & P and pick up feed for the hogs and chickens. Grandpa and Grandma McCoy stayed home, having the kids deal with urban life.
Norma Knotts Shaffer said her grandfather, Harley Collins, who lived on Mike's Run near Stumptown, didn't leave the holler except to go to church. He would have his wife Ruth Stump Collins take the cream out and do the shopping. He might have gone to Grantsville twice in his lifetime.
A popular World War I song published in 1918 asked "How 'Ya Gonna Keep 'Em Down on the Farm (After They've Seen Paree)." With thousands of farm boys going off to the war, the song wondered what would happen when they came back, if indeed they would.
"How ya gonna keep 'em away from Broadway,
jazzin around and paintin' the town;
How ya gonna keep 'em away from harm, that's a mystery.
They'll never want to see a rake or plow..."
World War II veteran Donzel DeWeese came back from the Rhineland and France to experience a farming life in the narrow Milo hollow, like his other family members who served in the Mexican War, the Civil War and World War I.
All came back to live out their lives on what most would consider to be the poorest farmland ever put on this earth, little flat land, steep and rocky and glued together with red clay.
Donzel's great-grandfather, Balis (Balas) Carr Dewees, brother of Col. C. S. Dewees, author of Calhoun's most formidable historical document "Recollections of a Lifetime," went off to the Mexican War, an adventure which covers several pages in the account.
Eighty-nine-year-old farmer DeWeese was laid to rest on a hillside not far from where five generations of his family have lived on the sod.
A family friend said at his graveside "He was an old farmer who would go to town and the stock sale. He liked being at his house and out on his land."
The hillsides up and down Milo are still mostly cleared - "clean land" for cattle from creek bottom to hilltop, while most of Calhoun's old farms have "growed up with brush."
We honor Mr. DeWeese and the few remaining old farmers, holding them gently in palm of our memories.
Now, more people are leaving West Virginia than ever before.