By Bob Weaver

One of Calhoun's "men of the sod" has died.

Donzel DeWeese, 89, of Chloe, a soldier, farmer, cattleman and fox hunter, has long held close to the Calhoun earth as did his father Balis and generations before.

DeWeese knew planting, hoeing, cattle raising, the horse and the plow. Long days under shade trees with baskets and tubs of food to be peeled, cut or diced for canning jars or pickling crocks.

A closeness to the sod, a work that will soon be faded from memory.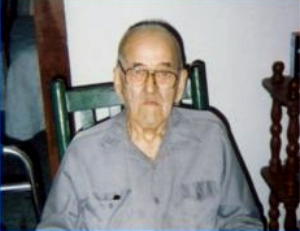 Donzel died March 23, 2005, in the Roane General Hospital, Spencer.
Funeral service will be conducted Saturday at 1:00 p.m. in the Milo Community Church with the Rev. Leon B. Strickland officiating. Burial will be in the Josiah Jarvis Cemetery at Oka.
Friends may call at the John H. Taylor Funeral Home in Spencer from 6-8 p.m. Friday and at the church one hour prior to the funeral on Saturday.
Donzel was born September 30, 1915 at Milo, Calhoun County, a son of the late Balis (1880-1966) and Emily Bailey (1889-1974) DeWeese who were married in 1907.
Donzel's great-grandfather was Balis (Balas) Carr Dewees, brother of Col. C. S. Dewees, author of Calhoun's most formidable historical document "Recollections of a Lifetime."
Balis Carr Dewees (1828-1907) fought in the Mexican War in 1847 and married Mary Conley in 1849 at the Joseph Knotts farm on the West Fork, then settling near Oka and later on Sam's Run.
The elder Balis later soldiered in the Civil War as a First Lt. for the south, and is buried at the Fink Cemetery.
Donzel DeWeese was among Calhoun's surviving veterans of World War II, serving in the US Army in the Rhineland, France and central Europe.
Survivors include a son and daughter-in-law, William D. "Bill" and Carolyn DeWeese of Chloe; daughter, Carol Siers of Chloe; sister, Golda DeWeese of Chloe; grandson, Jason DeWeese with the U.S. Navy, Norfolk, VA; great granddaughter, Malia DeWeese.
In addition to his parents, he was preceded in death by his wife, Nancy J. "Kate" DeWeese in 1995; a son, Charles DeWeese; a son-in-law, Kenneth Siers; brothers, Gordon, Ronzel and Oval DeWeese; sisters, Opal Miller and Doil Batten; several infant brothers and sisters.