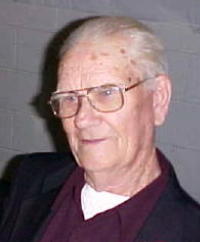 Roud Lane, 98, of Nicut, passed away February 6, 2005 at his home.

He was born April 27, 1906 a son of the late James and Ida Metz Lane. He was a retired trucker and farmer.

Surviving are his wife Hanie Cottrell Lane and two daughters, Maxine Felter of Massillon, Ohio and Betty Eddy of Lumberton, New Jersey; 2 sons, Russell fay Lane and his wife Dixie of Navarre, Ohio and Roud Lane Jr. and his wife Rosalee of Bolivar, Ohio; 2 brothers, Carl Lane of Fairmont and Newlon Lane of Nicut; 15 grandchildren; 22 great grandchildren; 15 great-great grandchildren; and 3 great-great-great grandchildren.

In addition to his parents he was preceded in death by 4 brothers, Ralph Lane, Hurl Lane, Otha Lane and Ezra Groves.

Funeral services will be held Thursday, February 10 at Stump Funeral Home, Arnoldsburg. Rev. Glen McBride will officiate. Interment will be in the Minnora Cemetery at Minnora.

Friends may call at the funeral home from 6 to 8 p.m. Wednesday.