By Bob Weaver

Jimmie Roberts went off to the deep and dark mountains of Pocahontas County to be a wood hick in 1906.

The twenty-one-year-old Hur boy stayed nearly ten years, timbering the mighty virgin trees in camps at Cass, Widell, Stony Bottom, Durbin and even spent some time at Rainelle in Greenbrier County, according to his son Denver Roberts.

"Dad was in the cross-cut saw crew. He had his own crew of men, like Lester Riggs and Alva Bell from Hur. He also had a reputation for being the best saw filer around," recalled Denver. "They lived in little shanties dropped off railroad cars, a company town. Dad went up there like many other men from Calhoun to get the work."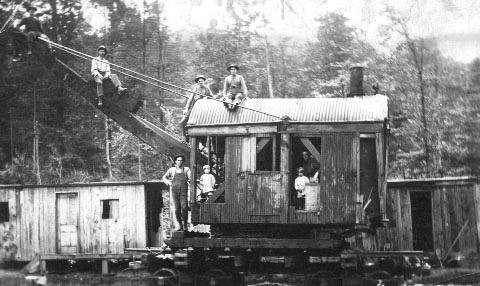 Jimmie on end of logging crane at Cass about 1907
He was there long enough to meet sixteen-year-old Melinda Reynolds, a Neola girl who was a cook in the lumber camp. Returning to the farm in Buckhorn Hollow near the Village of Hur, the couple began to have their ten children and make a life for themselves in Calhoun. Jimmy and his wife later moved to Grantsville to be remembered for their store Mountain View Supply, at the top of Town Hill.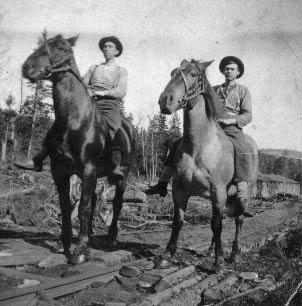 Jimmie and friend ride rails along Greenbrier River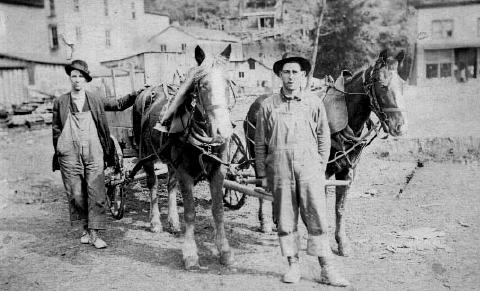 Teamsters pulled logs to rail, Roberts at left
"Dad was proud of his timbering life and would sit around the store and tell tales to kids like Richard Morris," said Denver Roberts. "It was the hardest of hard work."
Roberts was born "down on Buckhorn," a suburb of Hur on the left fork of Barnes Run. His dad, Eli was a member of the House of Delegates about 1924 and was Hur's Justice of the Peace, holding court in his cellar house. Eli Roberts was married to Sarah Jane Little, having four children, Lizzie who married Oscar Hughes; Lester moved to California to mine gold; Charlie, who operated a Charleston wholesale company and married Bessie, daughter of Hur storekeeper Will Sturm's and James Riley who stuck around Sunny Cal.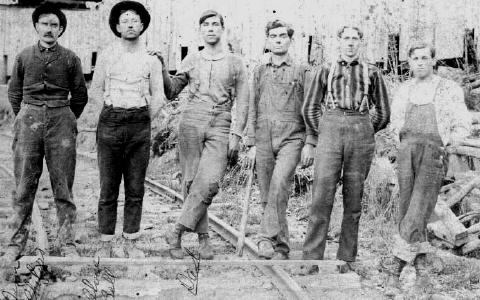 Cass (L to R) James Phillips, Hur's Alva Bell, Jimmie Roberts
(others not identified)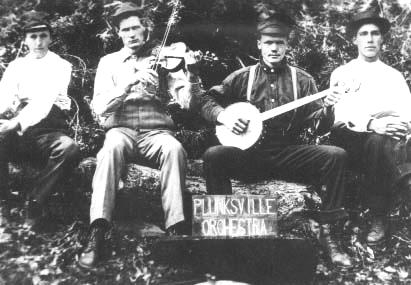 Wood hick band, The Plunksville Orchestra (Roberts on far right)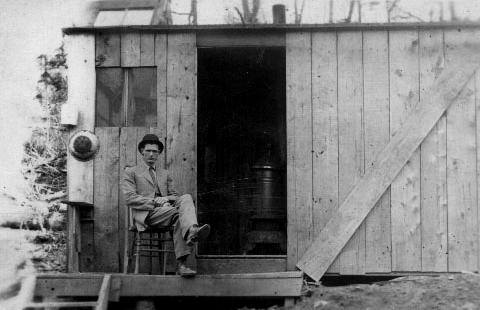 Shanties were skidded off railroad cars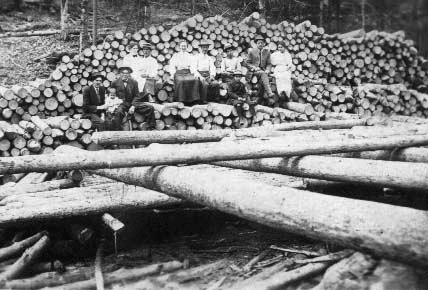 Cass (L to R) Jimmie Roberts, Linnie Roberts, Myrtle Roberts,
Alva Bell, Maud Bell, Grover Curr, Oscar Cubberly,
Pauline Bell, Chester, Holten Phillips
The Eli Roberts family moved to Buckhorn about 1880 to the left fork of Barnes Run near the Village of Hur. His son, James Riley Roberts, returned to Calhoun to raise his ten children. Jimmie died in 1983 at age of 95,. He and his wife Melinda operated their store for many years.
Denver Roberts said the store ran itself toward the end, customers would come in and help themselves, leave money or write down their own credit.
Their children include Arlie, Bob, Oran, Denver, Bill, Ted, Oran, Patty, Tessie, and Evelyn.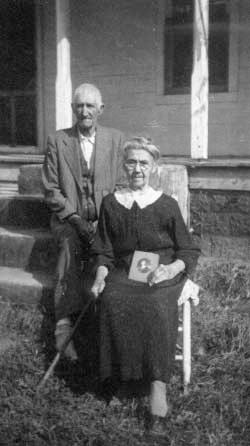 Eli and Sarah Jane Little Roberts of Buckhorn Hollow near Hur. Roberts held forth as Justice of the Peace in his cellar house for several years and was also a member of the House of Delegates in the 1920's.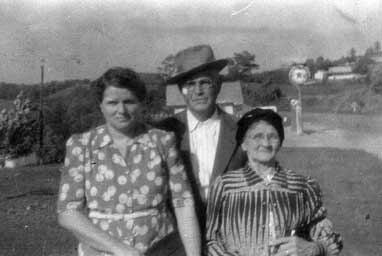 (L to R) Bessie Sturms Roberts, wife of Eli Roberts with her parents Will and Agnes Sturm. Sturm was a Hur storekeeper and political leader.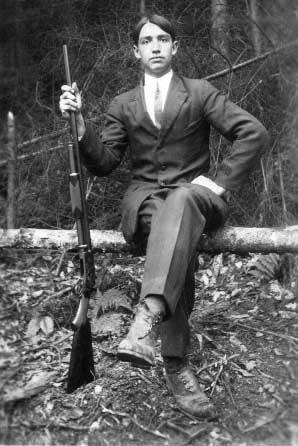 Charles Roberts, son of Eli, who managed Eskew, Smith and Cannon Wholesale in Charleston and helped maintain the Charleston Union Mission.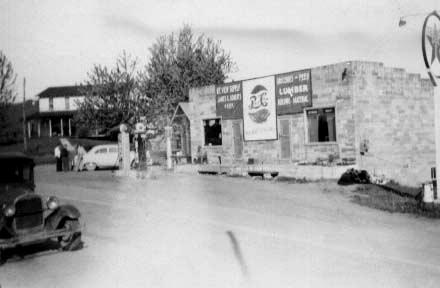 Mt. View Supply, top of Town Hill, Grantsville. Charlie Johnson's old Model A Ford to the left. Store was established about 1939.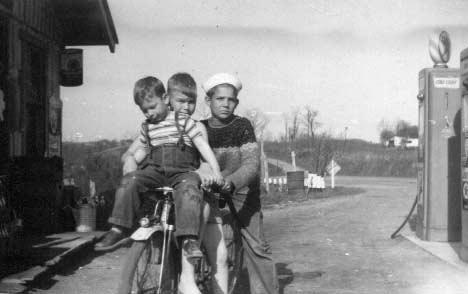 Mike and David Roberts, sons of Denver, and Billy Roberts who was killed in truck wreck in 1968.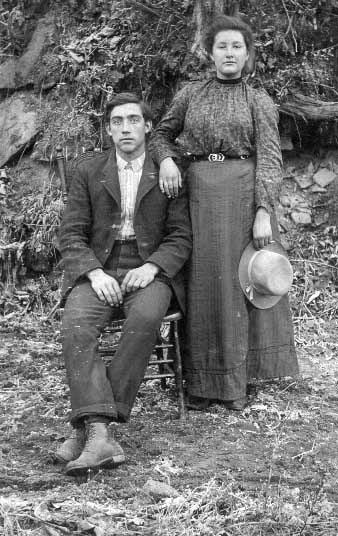 Lester Roberts, son of Eli, went cross country to California to mine gold, not to return. Shown with Flora McCune.