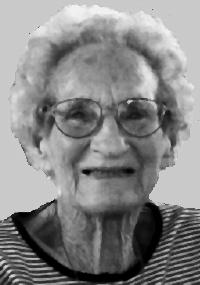 Georgia Faye Carper, our angel, 87, of Amma, West Virginia, went home to be with the Lord on Thursday, December 30, 2004 at CAMC-General Hospital, after a short illness.

Faye was a wonderful wife, mother, mother-in-law, grandmother, great grandmother and a special person to all who were blessed to have known her. She had a heart of gold and was a "Grannie" to everyone. Without her, life will never be the same.

She is survived by her husband of 66 years, Roy Stratton Carper; two daughters and sons-in-law, Rhonda and Alan McClain, Donna and Gerry Mitchell all of Amma; two sons and daughters-in-law, Ron "Jake" and Gladys Carper of Left Hand, Roger and Brenda Carper of Amma; 13 grandchildren and 27 great grandchildren; many nieces and nephews, especially Carol Fisher of Spencer, whom she thought of as her daughter.

Faye was preceded in death by her parents, R.P. and Sarah Florence Godby Reynolds; a daughter, Nancy Likiats; a son, Roy Kent Carper; brothers, R.P. Reynolds, Jr. and Opie Reynolds; sisters, Goldie Harris, Agusta Nida, Ruby McGlothlin, Mint Cottrell, Opal Robinson, Locie and Macie "Tobe" Reynolds; two grandchildren, Kenny and Sharon Pauley.

John H. Taylor Funeral Home, Spencer, with the Rev. Harley Cline and the Rev. Richard Webb officiating. Burial will be in the Clover Cemetery, Clover.