CABOT BUILT TWO CARBON BLACK PLANTS, ONE AT CABOT STATION JUST WEST OF GRANTSVILLE AND A SECOND ON THE FLATS AT CRESTON, WIRT COUNTY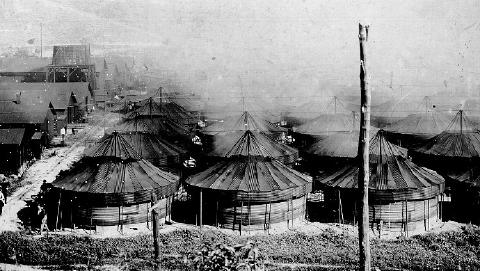 View of Cabot's carbon black plant, once the world's largest, running full throttle in early 1900s. (Photo courtesy of Harold Ferrell)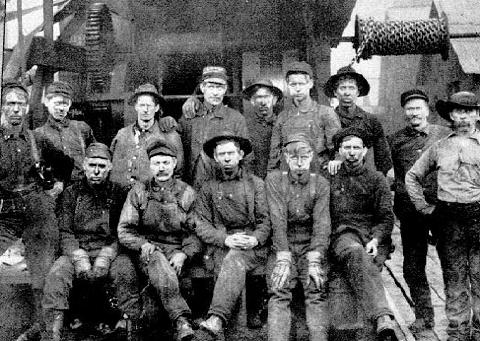 Workers at Godfrey L. Cabot's Carbon Black Factory: Front row, left to right: John Davis (standing), Kay "Boots" Stevens, Jake Hayhurst, Ellie Propst, Harry "Hike" Smith, Fred Ball, Frank Deem (standing); Second row: Mont Smith, Walter Eli Smith, Bill Durst (photo taken before he lost his arm in an accident at the factory), John Harris, Wes Propst, Wait Ball, Frankie Smith
(Photo Courtesy of Dale Johnson with identification by Emory Smith)
By Bob Weaver 2005
The Board of Trade and the townspeople of Grantsville were excited in 1899 about a new development to be known as "Boston-on-Kanawha."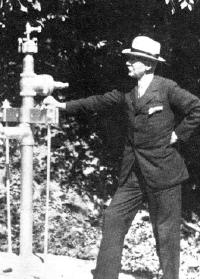 Godfrey L. Cabot (pictured left) of Boston's famous Cabot family, was instrumental in launching the project with the help of "Pittsburgh capitalists." It became the world's largest carbon black factories, a project that would put a number of men to work.
A newspaper account said "Boston-on-Kanawha is too large (a name) for the size of the place. It takes too long to write it," saying it should simply be called "Cabot."
Grantsville's Board of Trade decided to have Mr. Cabot build his factories three miles below town, "in order to avoid the rush and annoyance of active business" inside the city limits.
The board acknowledged Grantsville was an enterprising town, but cautioned property owners they should put the price of their land up a little. "This thing of letting monied people have real estate for $100 an acre, or such a matter, is foolishness," they said.
Business leaders later lamented "Grantsville made a wonderful mistake in allowing this factory to go so far below town."
They would have likely changed their mind in 1945 when the complex exploded.
Cabot's carbon black was originally used in printing ink, but was also developed for use in plastics, tires, toners, coatings and industrial rubber products. It was made by a mixture of partially burned hydrocarbons through partial combustion of natural gas.
By 1900 the carbon factory employed twelve men with the wages from $1.25 to $2 a day. The plant was producing 800 pounds of carbon black a day when it first opened, but that quickly increased to 1,400 pounds.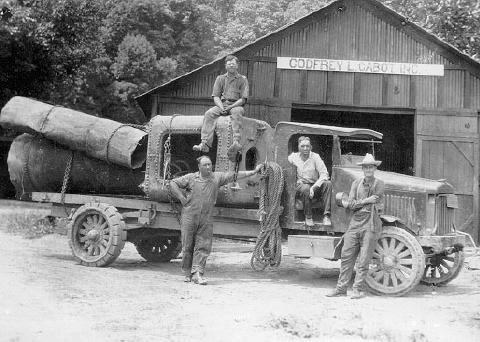 Left to right: Earl Ferrell, Bill Kelley (on truck), John Harris (in truck), and Bill Durst. Bill Durst lost his left arm while working for Cabot at the Carbon Black Factory. When supervisors were planning on releasing Bill from his employment, Godfrey L. Cabot intervened in Bill's behalf, and ordered that Bill would have employment so long as he desired. Bill continued to work for Cabot for many years thereafter
(Photo Courtesy of Calhoun Historical Society)
Cabot purchased the rest of the bottom where the factory was located in 1901, making it about 13-1/4 acres. "This he expects soon to have covered with buildings and machinery which will make it the largest plant of the kind in the United States," said an account.
The proposed construction of the Little Kanawha Railroad was to have transported the carbon black out of the valley, but it was never built. The carbon was shipped from plant to Palestine by river boat and there it was loaded into railroad cars and on to the eastern markets.
A newspaper spoke about the early construction: "He is preparing to put in a 6-inch pipe line from the gas wells on Leafbank to the factory, the 4-inch line now in use being too small to convey sufficient gas for the increased number of plates he is having put in. A large force of hands are kept at work all the time on the new buildings and machinery, in addition to those who work in the factory. Genial Lou Bickle, whom there is no better hearted person living, is foreman of these works."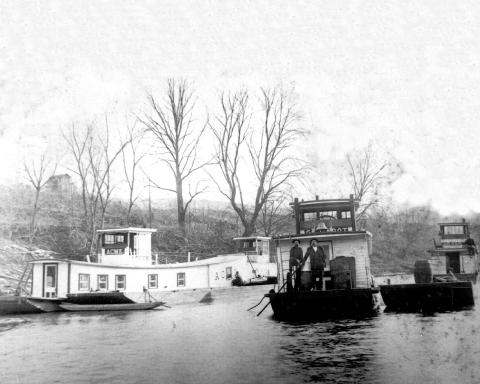 The Cabot Fleet 1913-1914 - Left to right: "Acme," "Virginia Rhodes," "G. L. Cabot," and "J. G. Oles." Individuals are identified as J. G. (Joseph Garibaldi) Oles and Joseph Miller Smith. Gasboats transported carbon black from the G. L. Cabot Carbon Black Factory down river to the world market. (Photo Courtesy of David L. Oles)
Flood surrounding factory at Cabot Station about 1920
(Photo Courtesy of Col. David Oles)
High view of plant looking up Little Kanawha, early 1900s
(Photo Courtesy of Willa Sturm Stump)
The shipments of carbon black by 1909 had been the largest in the history and kept "Capt. Wright of the gasoline boat Winona quite busy."
"The shipments of the past few days consisted of 32,000 sacks of twelve and a half pounds each and 800 barrels of 80 pounds each, in all about 650,000 pounds," said a report.
Throughout the century several men lost their lives at the Carbon Black factory, and later when the facility switched to a compressor station.
Lum Shaffer (SEE additional Herald story) tragically died in 1902 when he was covered by paraffin and burned to death.
Fire struck the complex in 1908, totally destroying the stock house. A worker said the fire was carried into the building in a bag of black. The employees of the plant held the fire in check and prevented it from spreading to other buildings.The loss exceeded $10,000, and was partially covered by insurance.
Employee John Propst met with an extremely painful, but not fatal, accident in 1913 while attending to his duties, one arm being burnt and bruised. He was oiling an engine his feet slipped and he fell, his arm being caught between the fly-wheel and bed-plate of the engine.
Grantsville's Dr. Dye responded to the emergency call and dressed his wounds. " Mr. Propst is an industrious, honest man, and his friends will regret to hear of his misfortune," wrote the paper.
In 1913, Godfrey L. Cabot became the sole owner of the W. Va. Carbon Factory, at a cost estimated at $50,000.
A second factory was built at Creston.
Newspapers reported that the deal made Cabot the "Carbon King" of the world. Cabot retained J. G. Oles to operate the plant. Oles, who built the factory, had been its superintendent since its erection in 1902, and "is recognized as one of the best carbon black manufacturers in the world."
Historians have said Cabot bought the plant during its fading years to help keep local men at work, considering then his friends.
Cabot, who developed a great number of gas and oil wells in the county, was well-known to Calhoun citizens, spending considerable time every year "walking his lines" and looking after his interests. He often boarded with farmers and friends, spending a night in their homes along his walking jaunts.
When the carbon black market faded, Cabot Station was shifted to a compressor or pump station for natural gas. Work continued on the transformation of Cabot Station through the 1920s by the Hope Natural Gas Company, which purchased the property. The large building held at least seven 1,500 horse power engines and pumps, their roar and thumping heard up and down the river.
In 1936 Cabot built a pumping and condensing station on the L. B. Carroll farm, not far from the mouth of Big Root. The new station will "push five million cubic feet daily."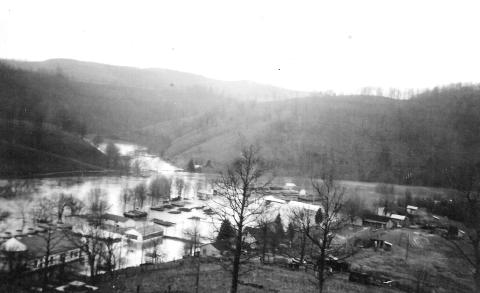 One of the county's great floods in 1939 invaded the Cabot Station compressor room and the plant was shut down for several days
In the '39 flood "A short distance above Cabot station, a new dwelling built by Eldon Riddle was carried from its foundation and swept by a ferocious current kissed a house belonging to his brother, Dye Riddle. Like pool balls with a lot of English, Eldon's house bounced back against a telephone pole. The other missed a pocket and remains about half-suspended over the river bank." Another great flood struck the complex in 1967.
But Cabot Station is best remembered from Thanksgiving Day in 1945. Elijah Nester and Junior Hawkins lost their lives when a large explosion struck the facility and almost everything was destroyed by fire.
Dozens of "Hope men" and their families came and went, some of them living in company houses on the well-kept property near the Cabot Station four-room school.
In recent years, the compressor station was down-sized and then closed. The building and property is still owned by Dominion Gas, which purchased the holdings of the old Hope company.
Today, the largest building on the site is being used by Restoration Station for re-cycling. The soil in the area still contains a layer of carbon black from nearly 100 years ago.
READ HUR HERALD STORIES
BLINDING FLASH, DEAFENING CONCUSSION, DEATH AND DESTRUCTION - Cabot Station Explodes 60 Years Ago (1945)
LUM SHAFFER NOW IN ETERNITY - Saturated With Paraffin, "Burned To A Crisp" In Cabot Station Fire (1902)