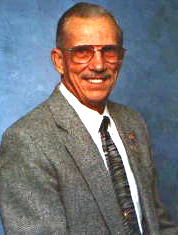 Jackie Ward Boggs, 65, of Looneyville, West Virginia, died Monday, November 29, 2004, in the Camden Clark Memorial Hospital, Parkersburg.

He was born December 5, 1938, in St. Clairsville, OH, a son of Ira Ward Boggs of Spencer and the late Chloe Irene Wilson Boggs. Jackie was a retired 20 year veteran of the U.S. Air Force and a member of the Irvin F. Conley Post 5783, V.F.W., Spencer. He was a former member of the Iron Workers Union, Pittsburgh, PA and a member of the Hays Fork Community Church, Linden.

He was an active member and Past Master of the Linden Lodge No. 83, A.F. and A.M., Linden. He was appointed Grand Pursivant of the Most Worshipful Grand Lodge of West Virginia for the year 2002-03 and had served as District Deputy Grand Master of the Fourth Masonic District of the M.W. Grand Lodge of W.Va. He was also a member of the Commandery No. 004, Knights Templar and the Grand Chapter Tyrian No. 13, R.A.M., both of Charleston; the Scottish Rite of Freemasonry, Charleston; and the Linden Chapter No. 152, Order of the Eastern Star, Linden.

In addition to his father, he is survived by a brother and sister-in-law, Wayne and Dolores Boggs of Looneyville; two sisters and a brother-in-law, Shelva Jean and Frank Twyman of Streetsboro, OH and Karen Rose of Mineral Wells; a dear and special friend, Nina Sanchez of Reedy; eight nieces and nephews; several loving aunts, uncles and cousins.

A funeral service will be conducted Thursday, December 2 at 2:00 p.m. in the John H. Taylor Funeral Home, Spencer, with the Rev. Leon B. Strickland officiating. Burial, with Masonic graveside rites, will be in the Clover Cemetery, Clover. Friends may call at the funeral home from 3-8 p.m., Wednesday.

Memorial contributions are preferred to the ALS (Lou Gehrig's Disease) Chapter, MDA of West Virginia, 900 Lee St., Suite 801, Charleston, WV 25301 or Hays Fork Community Church, c/o Hazel Simmons, 1825 Linden Road, Looneyville, WV 25259.