By Bob Weaver 2004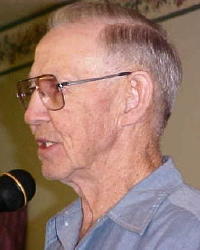 World War II vet Oral Nichols of Grantsville died this year, but not until he stood before a vet's day celebration last year at the Grantsville Senior Center and told his World War II story.
He is missed as the director of the senior choir, but mostly missed for his devout nature, generous smile and love of music.
He had put off telling his war story for a long time, telling it all.
He was a little uncomfortable, although he was standing before friends.
His words were clear and sincere.
Oral's story was the kind of story that make books, movies and legends, but more importantly it was a story about a Calhoun farm boy who was snatched into a global war of great proportions.
Here are some excepts of of his remembrances from the Fourth Annual Veteran's Day Celebration:
I was a 20-year-old poor boy from Calhoun, a hard worker, skinny as a rail and a Christian, when I was drafted. I had shaved twice when I went into the 83rd Infantry.
I fought through five countries and went one month without taking my clothes off.
I had just checked into my barracks, when this large soldier named Clark came to my side, checked me out and said "We've already lost the war. They're sending children in here."
I helped guard FDR when he came through West Virginia on a train, over at Grafton. I know you hear this, but I must tell you it is true - war is a terrible, terrible thing.
God was always on my side, and it helped me be strong. Once three large shells fell right in front of us and they did not explode.
We landed at Omaha Beach and my Jeep went so deep into the water, only my nose was sticking out.
During the battle, I ran onto on my really good friends that I had not seen for a while. Their looks had changed. They were so angry they didn't look like themselves. It took them a while, but they told me what was up ahead : Our soldiers hanging by their thumbs in trees, castrated.
Every fifth shell was a tracer, and sometimes there were so many rounds humming, you could read a newspaper.
I was sent out in a Jeep after a battle, and I had to run over dead soldiers, both German and American. It was then I saw an old woman run across the road and cut some meat off a cow, and rush back to her house.
These are things you don't forget.
Gathering up the body parts of my friends, and collecting their tags.
Many heroes are honored for the number of the enemy they kill. My heroes were the people who saved others from getting killed.
A friend of mine stood on a "bouncing betsy," which was supposed to fly up in the air and explode. It saved us, although it blew his leg off as he went into the air.
Taking a telephone wire through a bombed out town, I heard a crying baby. It had a burning blanket around it, and its face and leg were burned. I didn't know what to do with it, but I spotted an old women, handed it to her, and walked away.
Another time I opened a barn door to find a German standing there with a gun. I didn't have a weapon, and he indicated to me he wanted to surrender. If I would have had my weapon, the story would have been much different.
There is no amount of money that would return me to that war, but I suppose it has changed and moved me in directions that may have helped me in my lifetime, he concluded.
If there were important changes in Oral Nichols, we have all been extended the grace of his life these many years in our tiny community.
Nichols is now deceased.