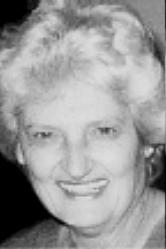 Irene M. (Douglas) Hanna, 84, of West Akron, Ohio, died April 15, 2004, following a short illness.

She was born in Milo, West Virginia, on August 23, 1919.

She was preceded in death by her beloved husband of 62 years, Harry, and is survived by her son, Dennis (Karen) Hanna of Copley; daughters, Marcia Schray and Tammy (Don) Evans of Akron; grandchildren, Josh Schray, Gabriel Schray, and Kelly Hanna; sister, Ruth Douglas Keith Boggs of Akron; brothers, Nolan Douglas of Akron, William Douglas of Wadsworth; and a host of relatives and friends.

Irene devoted herself to her home and family. She was an avid reader who also enjoyed gardening, and was known far and wide for her culinary skills. She will be greatly missed by her family and friends.

A memorial service was held Saturday, April 24 at 1 p.m., at the Mausoleum Chapel of Rose Hill Burial Park, 3653 W. Market St., Akron.