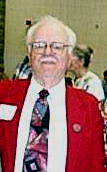 Elias Don Yoak, 82, of Spencer, West Virginia, passed to his final reward Saturday, September 4, 2004.

He was born September 19, 1921. Don is survived by his loving wife, Lucretia (Smith), one child, Denzil, four grandchildren, Larry Don Perkins, Barry Von Perkins, Courtney Hardman and Don Allen Yoak. He is also survived by two brothers, Harold of Parkersburg, WV and Von of Grantsville, WV, seven great grandchildren, two great-great grandchildren, and many nieces and nephews.

Don was preceded in death by his parents, Ira and Fannie, sisters, Mildred, Betty and Oleta, brothers, Glendon, Paul and Morris and daughter, Donna Yoak Hardman.

Don was a member of Methodist Memorial Church in Spencer, WV. He was a 60 year member of Eureka Masonic Lodge and a member of Scottish Rite and Nemesis Shrine for over 50 years. He was a one term member of the West Virginia House of Delegates and served in other positions in the Legislature for over 60 years. He was always very active in community issues, county, state and federal politics and was extremely proud of his political service. He was active in AARP, The federal Committee On Aging, Arts and Humanities and was appointed to multiple terms as a member of the National Silver Haired Congress.

Don will be remembered for his contributions to many projects. He was active in many of the first Walnut Festivals, the volunteer fore department, many community plays and charitable endeavors. He loved woodworking, travel, people and a good political fight. He will be missed by family and friends.

Funeral services will be held 1 p.m. Wednesday, September 8 at Stump Funeral Home, Grantsville. Rev. Beth Peters will officiate. Interment will be in Eventide Cemetery, Spencer, with Masonic graveside rites.

Friends may call at the funeral home from 6 to 9 p.m. Tuesday.