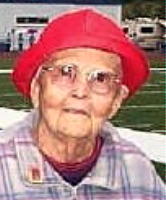 Elva Yoak 90, of Grantsville passed away Friday, August 20th, 2004 at Minnie Hamilton Health Care Center.
Born in Calhoun County, she was a daughter of the late Wattie and Dona Norman Yoak.
She was a graduate of Glenville State College where she earned a B.S. degree in Education and was a retired elementary school teacher in Calhoun County with 30 years service.
She was a member of the First Baptist Church of Grantsville and Calhoun County Senior Citizens. She had been a loving and devoted caretaker of F.F. and Nellie McCoy for many years.
Surviving are a half brother, Arnold Yoak; two half sisters, Betty Smith and Ruby Gene Godfrey; a step sister, Eleanor Welch and a step brother, Kenneth Deulley.
She was preceded in death by her brothers, Alva, Jack and Marvin Yoak; sisters, Sarah Yoak and Mary Selmon and a half sister, Maxine Sults.
Funeral services will be held 1 p.m. Tuesday, August 24 at Stump Funeral Home, Grantsville. Rev. Carroll McCauley will officiate. Interment will be in the Bethlehem Cemetery, Grantsville.
Friends may call at the funeral home from 6 to 8 p.m. Monday.