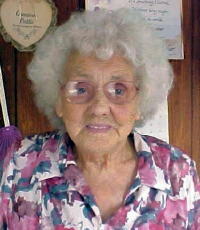 Rosie Hicks, 94 of Arnoldsburg, West Virginia, passed away July 10, 2004 at St. Joseph's Hospital, Parkersburg, following an extended illness.

Born at Uler, Roane County, she was a daughter of the late George and Bertha Wilmoth Falls. She was a former Foster Grandparent with 13 years service and attended the Arnoldsburg Community Church.

Surviving are two sons, Dayton Hicks of Orma and James Hicks of Mt. Zion; brother, Arnold Ray Falls of Arnoldsburg; sister, Milly Bishop of Arnoldsburg; half sister, Lillie Butler of Minnora; 26 grandchildren and 28 great grandchildren.

Mrs. Hicks was preceded in death by her husband, Earl Hicks, son, Eugene Hicks; 4 daughters, Virginia Poling, Bevagene Thomas, Mary Groves and Leota Jane Hicks; 3 brothers, Everett Falls, John Falls, and Herman Falls; sister, Orva Wayne; half brother, Jack Jarvis Falls; half sister, Lula Hays.

Funeral services will be held 1 p.m. Tuesday, July 13 at Stump Funeral Home, Arnoldsburg. Interment will be in the Bailey Cemetery near Minnora. Friends may call at the funeral home from 6 to 8 p.m. Monday.