One of Calhoun's well-known ladies Oleta Yoak Hill has died at 93

Funeral services are scheduled for 2 p.m. Thursday at the Pleasant Hill UM Church with the Rev. Rick Metheney and the Rev. Carroll McCauley officiating. Burial will be in the church cemetery.

The body will lie in state for one hour prior to the service.

Visitation will be from 6-9 p.m. today (Wednesday) at Stump Funeral Home in Grantsville. The OES will have a service at 7:30 p.m.

Ms. Hill was a delegate to the United Methodist Conference for 52 years, a member of the Pleasant Hill UM for 85 years, where she served for many years as the adult Sunday School teacher.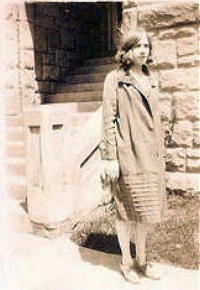 Ms. Oleta (pictured left) was a member of the CCHS Class of 1929, with the yearbook saying "She lives about three miles from school. During this term she has walked while most of her less energetic classmates of Grantsville were lying in bed ... She has a talent for music which we discovered when she and her brother, who accompanied her on the guitar sang "Just 40 Years Ago."
She was a former radio operator for the West Virginia State Police, a 1992 Belle at the West Virginia Folk Festival, a 50-year member of the Order of the Eastern Star Chapter #73 of Grantsville and a former high priestess of the White Shrine.
Surviving, three brothers, Ivy Von Yoak and his wife Freda of Grantsville; Don Yoak and his wife Lucretta of Spencer and Harold Yoak and his wife Eileen of Parkersburg.
Surviving, step-grandchildren are Tammy Marion of Wisconsin, Jimmy and Billy Bell of Florida and several nieces and nephews.
She was preceded in death by her first husband James Lamp and her second husband Olin Hill, also three brothers, Morris, Paul and Glendon Yoak and two sisters Mildred Yoak and Betty Ann Hickman.
The family requests that flowers be omitted and contributions be made to the Pleasant Hill UM Church.
Note: All the members of the Class of 1929 can be viewed through their high school yearbook on Norma Knott's Shaffers homepage under LINKS.