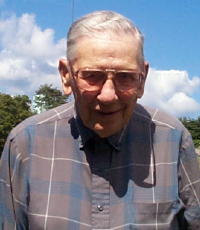 To many folks he was "Mr. Arnoldsburg," one of the last of his generation living in the community.

Rue L. Powell has died at the age of 94. Powell, until a short time ago, was still active in the community, driving his car and fulfilling his role as a historian of the area.

He died Tuesday at Washington Manor in Parkersburg.

Funeral services will be conducted at 11 a.m. Sunday at Stump Funeral Home in Arnoldsburg with the Rev. Robert Shannon officiating. Interment will be in the Hays-Haymaker Cemetery at Arnoldsburg.

Visitation 6-8 p.m. Saturday evening.

He is survived by a son, James H. Powell and his wife Barbara of Parkersburg, and a daughter-in-law Iolene Powell of Chillicothe.

He is survived by three siblings, Amy Hathaway of Grantsville, Eva Burton of Parkersburg and William G. Powell of St. Albans, WV.

Six grandchildren survive, Tammy Nichols of Mt. Zion. Robin Spangler of Avondale PA, April Haught of Harrisville, William R. Powell of Durham NC, Jeffery Powell of Nashua NH and Jennifer Diley of High Springs FLA. Also 10 great-grandchildren.

He was the son of the late Lon and Mary Downs Powell.

He was preceded in death by his wife Mary Hays Powell, and a son William R. Powell.

Six siblings are deceased, Paul, Shirley, Virla Lona, Lucille, Emma Neal and Victor.