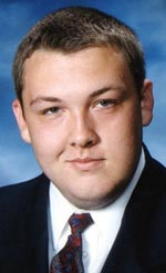 Seniors at Roane County High School are mourning the death of Jeremy Glenn Reed, a 17-year-old from Walton, who was killed prom night when his pickup struck a tree and caught fire early Sunday.

He was trapped in the burning truck, according to State Police.

It was the first prom night death in several years at the school.

A funeral service will be conducted Friday at 6 p.m. in the Roane County High School Auditorium with the Rev. Jackie Miller officiating. Burial will be in the Reed Cemetery, Walton. Friends may call at the high school from 4 until 6 p.m. on Friday, according to the John H. Taylor Funeral Home, who is in charge of the arrangements.

Rachel Mullins, a 15-year-old freshman, escaped from the truck with some serious injuries, including a broken collarbone.

Reed was born June 8, 1986 in Spencer, the son of Jeffrey Alan and Anita Jo Moore Reed of Walton.

In addition to his parents, he is survived by his paternal grandmother, Edith Reed Carpenter of Walton; maternal grandmother, Jean Langston of Quartzsite, Arizona; several aunts, uncles, cousins and lots of friends. Also, he leaves behind his two dogs, Ginger and Wrinkles.

He was preceded in death by his paternal grandfather, Herman Myles Reed; maternal grandfather, Roy Edison Moore.

Memorial contributions may be made to the Roane County Animal Shelter, P.O. Box 84, Spencer, WV 25276.