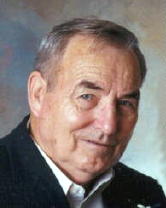 NORTON - Oval "Gene" McKown, 73, passed away April 29, 2004. Gene retired from A.M.H.A. where he was supervisor of maintenance and he served in the US Army during the Korean Conflict. He was a hard worker who enjoyed carpentry and remodeling homes.

He was the son of the late James Lee and Vada Hall McKown of Cook's Fork, Beech, Calhoun County. Isaac McKown, who owned the farm where WalMart now stands in Spencer, was his great grandfather.

Preceded in death by his first wife of 36 years, Gay, and his parents, Lee and Vadie, he is survived by his wife of 10 years, Mary; sons, Bob (Cathy) McKown and William (Jennie) McKown; step-children, Ron (Linda) Fox, Chuck (Debbie) Fox, Kevin (Renea) Fox, and Gina (Rich) Lann; brothers, Brice (Pat), Junior (Marie), Bill (Marion), and Glenn McKown; sisters, Ivy (Buster) Hoskins, Sue (Russ) Romaine, Phyllis (Gary) Spurlock, Bonnie Hoffman, Barb (Kenny) Miller; special nieces, Joann (Don) Conrad and Connie (Bruce) Hubner; special nephew, Larry (Dee) Tucker; numerous grandchildren and 4 great grandchildren. A special thanks to the Visiting Nurse Service, Karen Ware, and Linda Richmond.

Friends may call at the Bacher Funeral Home, 3250 Greenwich Rd., Norton on Sunday from 12 to 4 p.m. where funeral services will be held on Monday at 2 p.m. . Interment at Loyal Oak Cemetery. If desired, memorials may be made to the Visiting Nurse Service or the the Society for Progressive Supranuclear Palsy.