By Bob Weaver 2001

Ernestine Keaton was cookin' ramp soup when we stopped to take a look at her stately country home along U.S. 16 south of Orma. "Ramp soup has a great flavor. Ken and I really like it," she said. They had just returned from a ride on Ken's motorcycle. They have been married for 45 years.

Kenneth and Ernestine Brannon Keaton purchased the eight-room, two story house which his family owned since 1947. His mother, Judith Duncan Keaton, was the last occupant, having lived out her life there after her husband George passed on. George was a well-known veterinarian up and down the West Fork.

The Keatons returned to Calhoun in 1997 to commence work on the house, after living and working in Ohio for many years. Ken was in the military for a few years and retired from Ohio Edison. Ernestine, who worked as a hairdresser, was the daughter of Ernest and Martha West Brannon of Little White Oak.

Ernestine graduated from Calhoun High School in 1955 after attending Little White Oak Grade School. "I walked 4 1/2 miles out of Little White Oak to Thelma Conley's or the Price Jarvis' where I changed clothes to catch the bus to Calhoun High," she said. "During the winter months it was always after dark when I got home."

The Keaton house, which was built by Joseph Knotts about 1905, actually faces the West Fork and the original creek road. Andy Parsons cut the trees, sawed and finished the lumber at a water-driven mill beside the house. The Knotts family also operated a grist.

Much of the inside walls of the house is the original wood finishing. The spacious living room, dining area and kitchen is reminiscent of large farm homes. A large downstairs bedroom was called the "Preacher's Room," often occupied by a clergyman brought to the area by the Knotts family. "They were very religious," said Ernestine.

Ken enjoys sitting on one of the two original porches. "We have really enjoyed returning to the house and working on it," he said. "Actually, even though we worked away for many years, we never really left, coming back every two weeks or so," he said.

Ernestine said she has really liked decorating her home for Christmas. "It is a wonderful place to live," she said.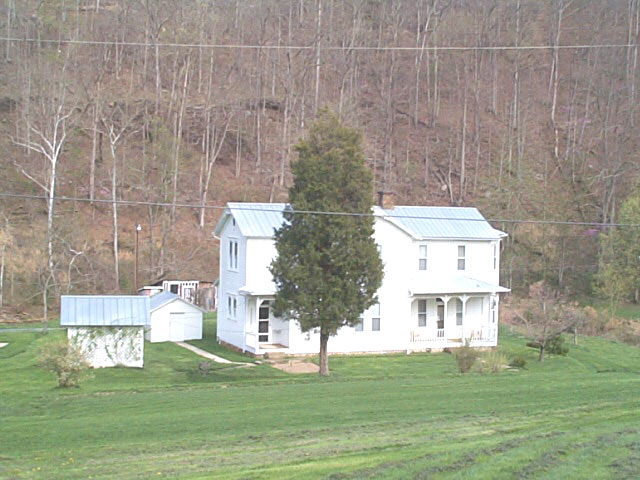 View from Route 16 near Orma
Front of house faces West Fork, original road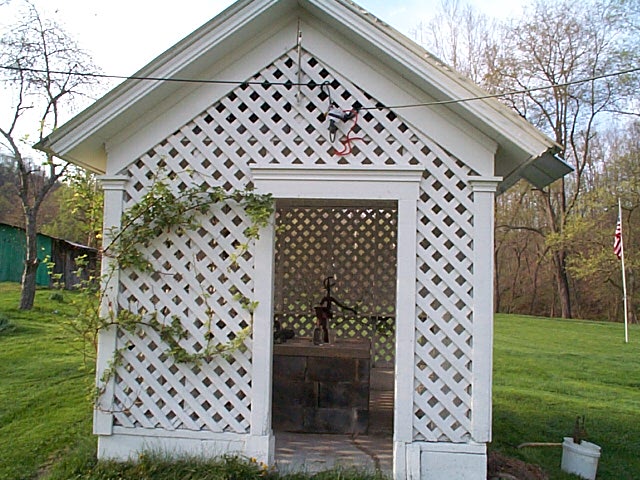 The pump house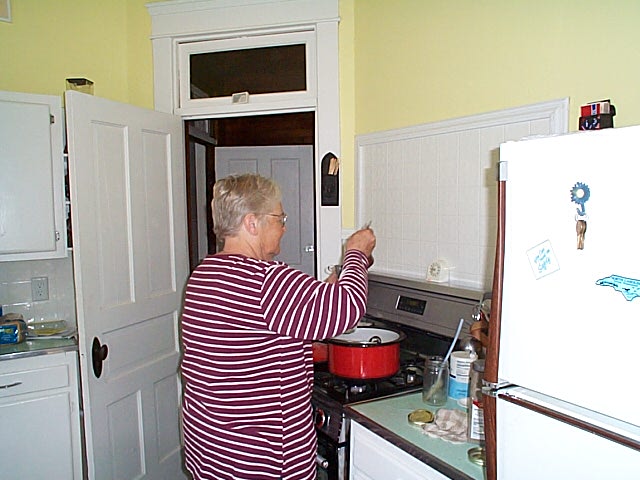 Ernestine making ramp soup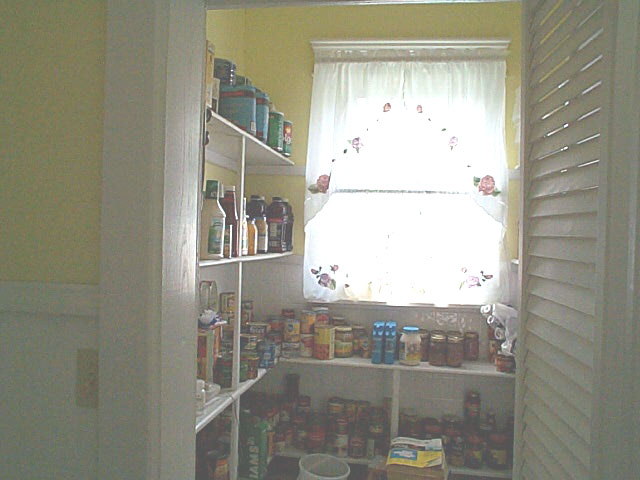 "The pantry"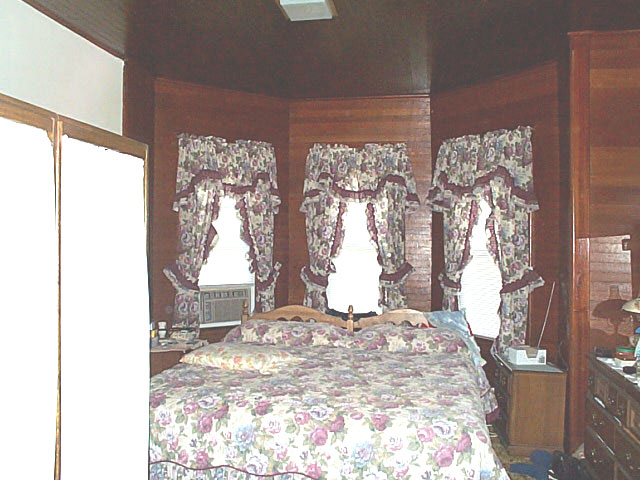 The "Preachers room"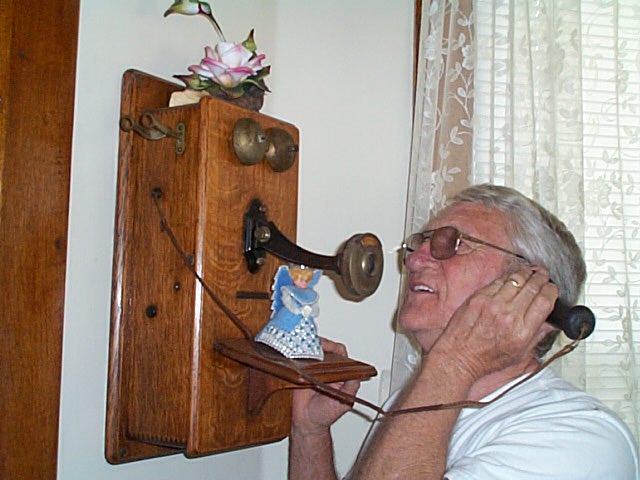 Ken "talks" on original phone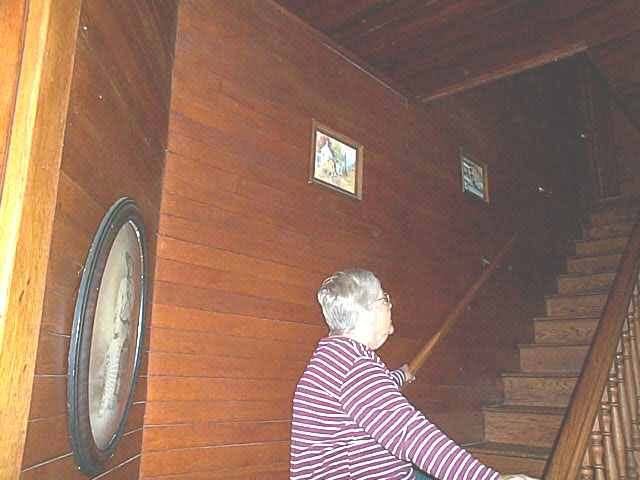 Interior of the house is finished with natural wood.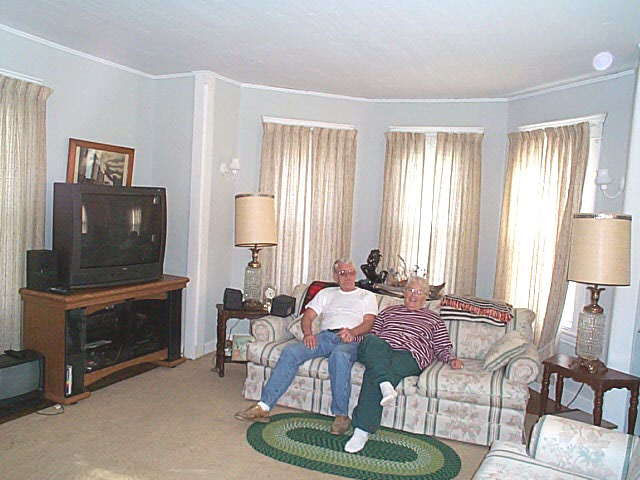 The Keatons have been married 45 years