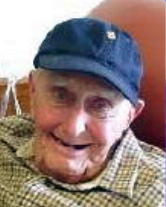 George Whipkey, 98, of Grantsville, West Virginia, passed away April 20, 2004 at Minnie Hamilton Health Care Center, Grantsville.

Born at Nobe, he was a son of the late Abe and Daisy Church Whipkey. He was a well known gospel singer having taught gospel music in Calhoun and surrounding counties for many years. He had been a member of the Chapel Baptist Church at Nobe since 1934 and was a member of the IOOF Lodge # 118 at Burnt House.

Surviving are one brother, Leon Whipkey of Nobe; three sisters, Agnes (Susie) Smith and Thelma Lowe both of Ohio, and Alma Wright of Parkersburg.

He was preceded in death by his wife, Alta Whipkey; sister, Mary Morris; and an infant brother.

Funeral services will be held 2 p.m. Sunday, April 25 at Chapel Baptist Church, Nobe. Reverends Ronzel Roberts and Robert Nicholas will officiate. Interment will be in the Nobe Cemetery.

Friends may call at the church from noon until 2 p.m. Sunday.

Stump Funeral Home, Grantsville is in charge of arrangements.