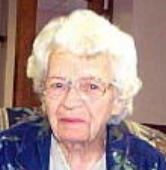 Georgia B. Stump, 92 of Grantsville, West Virginia, died April 19, 2004, at her home.

She was born September 30, 1911, in Calhoun County, a daughter of the late John and Sarah Weaver Ward. Georgia was employed for many years by Rubber Fabricators and later for Dr. Benjamin Sol and family. She was a long time member of Bethlehem Baptist Church.

She is survived by five children, Florence Ball Meadows of Cleveland, OH, Gerald R. Ball and wife Shirley of Bull River, French A. Stump of Grantsville, Geraldine Hupp and her husband Doyle of Grantsville, Virginia Stump Bland and her husband Nelson of Libby, MT; one brother, Arley Ward and wife Jean of White Pine; 16 grandchildren; 33 great grandchildren; 46 great great grandchildren; 5 step children, Judy Collins, Rick Collins, Rosemary McKown, Jeannie Stealy and Billie Moss; 16 step grandchildren, 12 step great grandchildren and numerous others who called her Grandma "GG"; 2 sisters in law, Mildred Ward of White Pine and Lenore Ward of Brohard; 1 brother in law, James Barnard of KY; numerous cousins, nieces and nephews and many, many friends.

In addition to her parents she was preceded in death by her first husband, James Wesley Ball; her second husband, Harry W. Stump; five brothers, Jennings, Walter "Shoad," A.I., John E. and Harley; two sisters, Auldie Ward Barnard and Hattie Rose Ward, and two grandchildren.

Funeral services will be 2 p.m. Friday, April 23 at Stump Funeral Home, Grantsville. Rev. Robert Nicholas will officiate. Interment will be in Bethlehem Cemetery.

Visitation will be Thursday evening from 6 to 8 p.m.