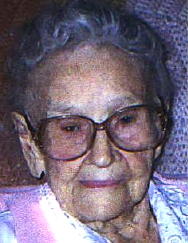 Lessie Virginia Starcher Larch, 103, died Sunday, March 21, 2004 at the home of her daughter, Jodie Keen, of Hometown, West Virginia.

She was born May 16, 1900 at Beech, Calhoun County, a daughter of the late Leonard C. and Flora Hackney Starcher. She was a homemaker.

In addition to her daughter, Jodie, she is survived by daughter Bonnie M. Drake of Glenville, WV; grandchildren, Saundra Kelley of Goldsboro, NC, Peggy Easter of St. Albans, WV; Kay Winter of Nitro, WV; Robin Jones of Pt. Pleasant, WV, Harry Drake of Glenville, C. D. Drake of Buckhannon, WV, and Ed Keen of Eleanor, WV; 18 great grandchildren; two step great grandsons; 19 great great grandchildren; one great great great grandson; and one sister, Berta Beckett of Hurricane, WV.

In addition to her parents, she was preceded in death by her loving husband of 58 years, Preston M. "Pat" Larch; sisters, Hetta Eismon, Leafy M. Starcher, Velma Drake, and Ernestine Morris; brothers Lital, Archibald, Loring, Zollie, and Chester Starcher; and two great great grandsons.

A funeral service will be conducted Wednesday, March 24 at 11 a.m. in the John H. Taylor Funeral Home, Spencer, WV, with the Rev. Paul Drake officiating. Burial will be in the Clover Cemetery, Clover.

Friends may call at the funeral home from 6-8 p.m. Tuesday.