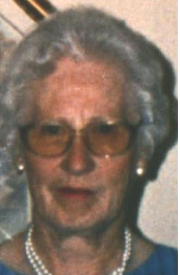 Addie Blanche Sanders, 82 of Walton, West Virginia, died Monday March 15, 2004, in CAMC-General Hospital, Charleston.

She was born June 13, 1921 in Kanawha County, a daughter of the late Lloyd B. and Harriet Susan Nida Campbell. She was a homemaker and a member of the Sandy Knob Advent Christian Church, Walton.

Survivors include three sons, Denver P. Sanders and wife Jackie of New Carrollton, MD, Ronald G. Sanders and fiancée Drema K. Rucker of Walton, Sonny M. Sanders of Walton; three daughters, Phyllis Spencer and husband Kenneth of Newton, WV, , Margie Dellinger and husband Doug of Edinburg, VA, and Marcella Drennen and husband Tony of Glenville, WV; a sister, Bessie Rollins of Waverly, Ohio; 16 grandchildren; 26 great-grandchildren; and one great-great-grandchild.

In addition to her parents she was preceded in death by her husband, Earl Robert Sanders; son, Roland Sanders; granddaughter, Stacy Waybright; brothers, Lester, Lloyd "Cage", Donald and Delbert Campbell; sisters, Jessie Monroe, Mae Higginbotham, Violet Higginbotham, Nacie Campbell and Locie Campbell.

A funeral service will be 11 a.m. Friday, March 19 in the John H. Taylor Funeral Home, Spencer, with the Rev. Wayne Stewart officiating. Burial will be in the Looney Cemetery, Walton. Friends may call at the funeral home from 6-8 p.m. Thursday.