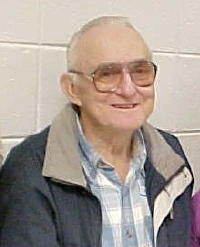 Longtime community servant Deward Offutt of Millstone has died at age 83. He had been suffering with cancer for a considerable time.

The Calhoun Commission passed a resolution last night: Resolved, this first day of March, 2004, we recognize the long-time service of Deward Offutt to the Calhoun community, as a Calhoun Commissioner and a community servant in many different roles. We express our condolences to his family.

(Signed) Larry McCallister, President; Rick Sampson, Commissioner and Bob Weaver, Commissioner.

He was a graduate of Calhoun County High School, class of 1940, serving in WWII from 1942-1946 in the South Pacific and in the Reserves from 1946-1949. He was retired from Hildreth Oil & Gas and Kingsbury Oil & Gas. He served 45 years on the Little Kanawha Soil Conservation District Board and served on the RC&D Board.

He was one of the original founders of West Fork Community Action and helped with the organization of the West Virginia Molasses Festival. He served as Calhoun County Commissioner from 1967-1975. He was a member of the Louisa Chapel Arnoldsburg U.M. Church for 70 years. Most recently he attended the Sand Ridge U.M. Church.

He was born September 6, 1920 near the farm where he spent his life. He was the son of the late Arthur and Etta Whytsell Offutt.

He is survived by his wife, Byrnadeen of 55 years; his son, D. Lention and Karen Offutt of Elizabeth, WV; his daughter, Sherlene and Kenny Conley of Millstone and three granddaughters, Melissa and Sarah and Hannah Conley; and a sister, Delma Kemper of Millstone.

He was preceded in death by an infant son and a brother, Denver Offutt.

The family requests in lieu of flowers, memorial contributions be made to Camden-Clark Housecalls Hospice, The West Fork Community Park, or the Sand Ridge U.M. Church.

Funeral services will be held Thursday, March 4 at 11 a.m. at Stump Funeral Home, Arnoldsburg, WV. Rev. Rick Swearingen and Rev. Cleston Garrett will officiate. Interment will be in the Sturm Cemetery at Millstone. Friends may call at the funeral home from 2 to 4 p.m. and 6 to 8 p.m. Wednesday.