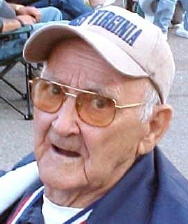 Woodrow J. (Jake) Kerby, 89, of Mt. Zion, West Virginia passed away February 25th at Minnie Hamilton Health Care Center, Grantsville.

Born in Calhoun County, he was a U.S. Army veteran of WWII, was retired from from the West Virginia Department of Highways and was a member of the Mt. Olive United Methodist Church at Hur.

Surviving are one daughter, Rose Pursley and her husband Roy of Grantsville; three brothers, Kose Whytsell, Eugene Whytsell and Brent Whytsell; four sisters, Katheryn Ladd, Jewel Marsh, Louise Nevitt and Geneva Morgan; several nieces and nephews.

He was preceded in death by his parents and his wife Eulah Kerby and two bothers.

Funeral services will be held 2 p.m. Saturday, February 28 at Stump Funeral Home in Grantsville. Interment will be in the Mt. Zion Cemetery.

Friends may call at the funeral home from 6 to 9 p.m. Friday.