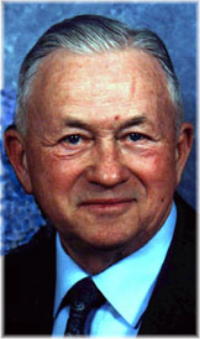 Well-known Spencer businessman James E. Hamric is dead at 84. A native of Elana, Roane County, he was instrumental in the development of the East Main Street area of Spencer.

He is the father of the Director of Athletics, Jim Hamric, at Parkersburg High School.

A funeral service will be conducted Thursday, February 19 at 11 a.m. in the First Baptist Church of Spencer, with the Rev. Michael F. "Mike" King officiating. Burial will be in the Eventide Cemetery, Spencer.

Friends may call Wednesday, February 18 from 2-4 and 6-8 p.m. at the John H. Taylor Funeral Home, Spencer and at the church one hour before the service.

In lieu of flowers, the family requests memorial contributions to the First Baptist Church of Spencer, Building and Ministries Fund, "Elevator Project," Spencer, WV 25276.

He was a former owner/operator of the Spencer Truck and Implement Co. and the Texaco Bulk plant in Spencer.He worked extensively in site preparations in the oil fields of Roane County, serving on various civic organizations to improve the city of Spencer and surrounding Roane County.

He was an avid sports fan and supporter of Roane County athletics. He was well known for Rook playing skills. He was also a member and supporter of the Republican Party and he was an Army veteran of World War II.

He was a 53-year member of the First Baptist Church of Spencer, where he served as deacon. He was also instrumental in the early planning for construction of the current church building.

He was the son of the late James Ernest and Ollie Smith Hamric. In addition, to his parents, he was preceded in death by his first wife, Lorene Hamric in 1969; his second wife, Virginia Hamric in 1996; three brothers, Waldo, Smith and Ralph Hamric.

Survivors include one daughter, Mary Susan Hamric, with the U.S. State Department, Monrovia, Liberia, Africa; one son and daughter-in-law, Jim and Margie Hamric of Spencer; three grandchildren, Amy Weintraub of Charleston, Lori Gibson of Spencer and Jay Hamric of Shekou, China; five great grandchildren; a dear friend, Kitty Hughes of Spencer; one brother, Joe Hamric of Ripley.