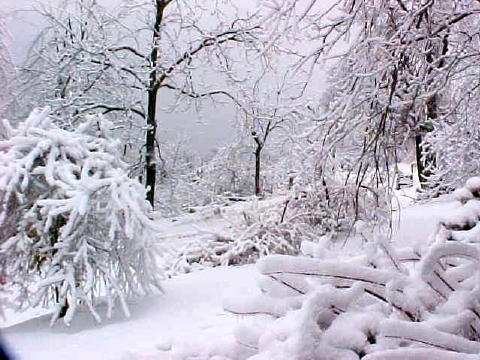 Storm at the height of its passion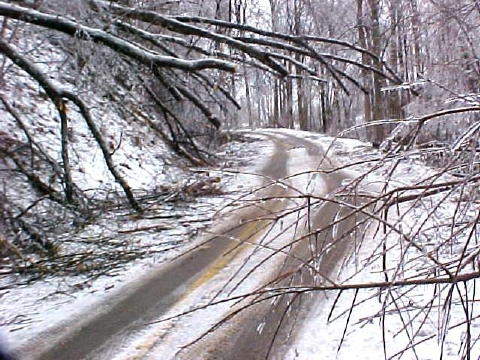 Roads closed, electric off, phones down
By Bob Weaver 2004
A year has passed since one of the county's most memorable weather events.
A colossal ice storm, the likes of which had not hit this part of the world for more than a century.
The first alert came from the National Weather Service monitor. A severe "Winter Weather Advisory" with a bonus - an ice storm.
Dianne and I were putting the Herald on-line at midnight Saturday, with a creepy feeling that the weatherman might be right. "This is by far, by far, the biggest of the season and potentially very hazardous," said John Victory, a meteorologist with the National Weather Service in Charleston.
At 2 a.m. Sunday morning (February 16) Dianne said "Look at the Japanese Maple tree, all shiny with ice," suggesting I go out in the yard and take a picture.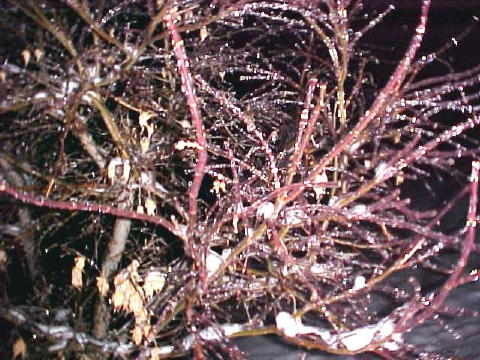 Japanese Maple glistens at 2 a.m.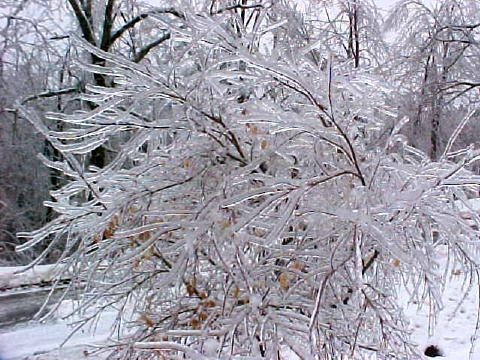 Japanese Maple at dawn's light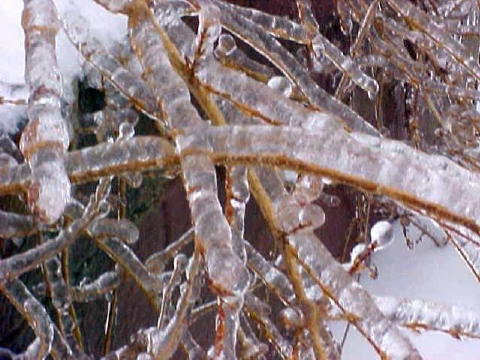 The tale told with tiny branches covered with ice
A short time later, the timber began to crack close to the house, across the hills and down in the hollers. Before daylight, the sound was constant and unnerving. We couldn't sleep for the noise and fear that one of the large trees in our yard would crash on the house.
By dawn's light the electric and phone went out, not to be restored for over a week. We lit our gas mantled lights and oil lamps, fired up our battery radio and began to eat all the food in the deep freeze. It was quite a feast.
We even had a battery TV to watch the news, but most audibly we had a battery operated scanner, listening to the mounting problems and struggles being experienced by our neighbors.
We were thankful for our gas heat, unregulated by electric, and plenty of available drinking water. Even more grateful for our highly functional outhouse.
Twenty-four-hours later the timber was coming down in full force. Dianne and I stood on the deck and counted forty cracks, some of them like a stick of dynamite, in one minute.
Hundreds of trees blocked the road between Hur and Mt. Zion. We could hear the buzzing of chain saws, and drew a breath of excitement when members of the Grantsville Volunteer Fire Department cut their way to our neighborhood.
By Tuesday we managed to get on board a 4x4 truck belonging to Levi Fowler to take some pictures and get some gasoline for our generator, long unused. Grantsville proper had electric, and we uploaded some news of the disaster on the Herald, at Norma Knotts Shaffer's.
After some mechanical work and dozens of tries, ye old generator fired up, and a few days later we decided to risk hooking the computer to the device, still worried about surges and problems. It worked like a charm, and we put some details on the Herald about what was happening around the county.
The storm caused damage to tens of thousands of acres of woodland, doing millions of dollars of damage to forests.
The after-storm flooding was not as severe as expected.
Most importantly, Calhoun folks pulled together to get through the crisis, strong survivors to get through the tough times.
NEWS AND PICTURES - ICE STORM 2003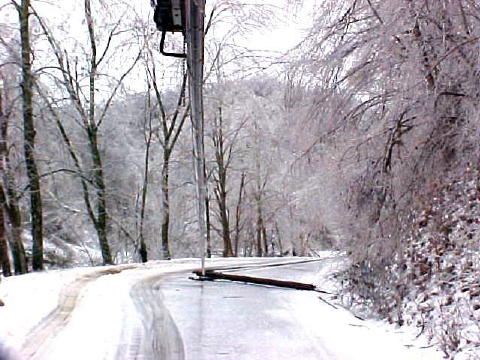 Hundreds of power and phone poles down around the county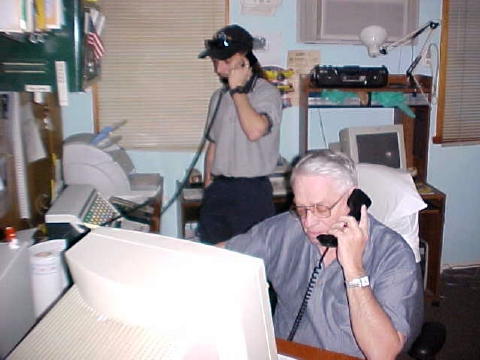 911 dispatchers answer hundreds of calls for assistance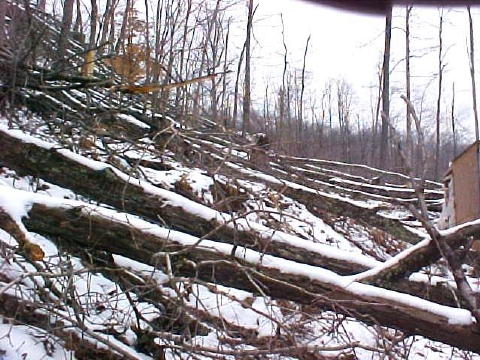 Tens of thousands of trees break under pressure
REGION STRUCK BY ICE STORM - Roads Closed, Lines Down (2/18/2003)
2 p.m. Tuesday - Calhoun County and the region has been struck by a severe ice storm that has downed tens of thousands of trees. The storm swept across the region Saturday night, cutting off power and telephone service.
The West Virginia DOH reports thousands of trees across Calhoun's nearly 600 miles of rural roads, although the main highways Rt. 16 and 5 have been cleared, except for additional trees falling across the right-of-way.
Liberty Hill on US 33-119 has been closed several times, with trees trapping the volunteers who had been doing the clearing.
All of the county's fire departments and emergency services have been on duty since Saturday night. Calhoun's 911 numbers have not been available, but currently can be reached by calling 304-354-7006.
Calhoun EMS reports few accidents since the five-vehicle collision last week, although they have been able to make medical runs on roads that have been covered by nearly two-inches of ice.
Electric and phone poles are down. Firemen, DOH workers and community volunteers have cut hundreds and hundreds of trees to allow for one-lane passage.
Calhoun 911 said "Neighbors are helping one another." This winter storm may well be the worst such storm to hit the region in memory.
THE MELTDOWN - History Making Ice Storm Ends (2/21/2003) 6 PM Friday - Most rural residents of Calhoun are still without electric and phone service at this hour, although most roads are now passable after the cutting of several thousand trees which toppled from heavy ice.
Allegheny Power is telling regional residents electric can be restored by Sunday night. Power has already been restored to sections along Route 16 and Route 5.
Power and telephone cables are broken and hundreds of poles are down, requiring a massive effort to restore service. The electric company has 1,700 workers in this region working on the problem, and Frontier, the local telephone company, has several contract crews restoring service.
Calhoun's 911 Center reported few "major problems" so far, mostly medical runs for Calhoun EMS and assistance calls for medicine, food and water.
Grantsville's Senior Center and the First Baptist Church have been utilized as emergency shelters.
The county's three fire departments have been busy around the clock providing services to the community, from tree cutting to emergency deliveries. Grantsville Fire Chief Steve Heath said we have been up and down virtually every road in our coverage area, "cuttin' trees and doing what we can."
Arnoldsburg Fire Chief Bill Jones said "We'd cut trees out to get traffic through, and others would fall down behind us. It was a pretty scary thing for the first two days," he said. "One tree fell down on a members truck out on Sand Ridge."
Local church pastors and their members went "on the road" to see what they could do to help. Pastor Mike Worf of the Victory Baptist Church said "We'd just ask if they needed any thing."
COMMUNITY FACING WATER PROBLEMS - Boil Water Advisories, Drinking Water Available (2/21/2003) The absence of electric to run water pumps in rural areas has created a problem with drinking water. BOIL WATER ADVISORIES are in effect for Pleasant Hill PSD through Monday and for the Mt. Zion PSD through Saturday night.
Water jugs (or bring your own container) are available at the Grantsville VFD, Upper West Fork and the Arnoldsburg VFD.
The Grantsville VFD has been delivering drinking water to rural residents, gallon jugs, when they have been notified of the need.
REGION BRACES FOR FLOODING - "Imminent Emergency Conditions" (2/21/2003) Calhoun and the region is bracing for possible flooding from the meltdown of one of the worst ice storms in recorded history. The compacted snow and ice, in addition to tons of ice from trees and buildings, is expected to create a lot of run-off.
Complicating the situation is rainfall coming to the area today and tomorrow.
At 6 p.m. today Calhoun streams were beginning to rise, and the Little Kanawha River was flowing slightly higher than normal. A FLASH FLOOD WATCH is in effect until midnight Saturday, but may be extended if more rain crosses the region.
The Herald continued to produce dozens of stories and lots of pictures about the disaster.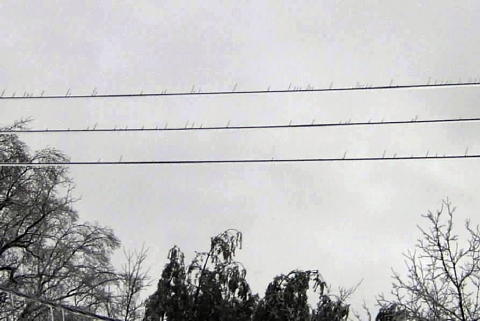 Then there was the mystery of the upside down icicles on a power line - Photo courtesy of Brain and Michele Hipp