2018 - Starcher, these years later, has been deployed to Iraq, Afghanistan and other countries several times with active wartime duty, with just a few years left to retirement. He has been a good soldier, now a Sergeant. He is my hero. - BW

By Bob Weaver 2003

Tears mixed with a freezing drizzle on the parking lot of the West Virginia Army National Guard's Point Pleasant Armory before daybreak yesterday, as a convoy of trucks from the 3664th Maintenance Company prepared to swing onto W.Va. 62 along the Ohio River and begin a journey to Iraq.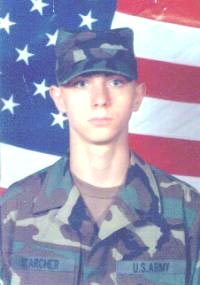 One of the 175 soldiers was a Calhoun boy,
Pfc. Kenneth V. Starcher of Joker, son of Mr. and Mrs. Dennis Starcher. Starcher was a delayed entry soldier with the 1092nd Engineers in Spencer, whose outfit left at the outbreak of the war.
Starcher was playing catch-up and was assigned to the 175 member unit who will spend 18 to 24 months in Iraq. He had been upset over not being able to be with "my buddies with the 1092nd," but by departure day he said he had made new friends within the 3664th.
"I really liked the training," said Starcher, who said he had learned a lot of things from his military experience so far. "I want to be a good soldier. I will be a good soldier," he said, apologizing for his obsession for keeping his boots spit-shined.
Starcher, a 2003 graduate of Calhoun High School, received word of his call-up a few days before Thanksgiving, and spent most of his time visiting family members, deer hunting and spending time with his girlfriend.
"It's been hard for me to imagine what it will be like over there. You know I haven't been off of this ole Calhoun ridge very much," he said.
He talked about his country-boy life, putt'in old bikes together to "fly down the Joker Hill," and graduating to a worn-out four-wheeler that had to have a dose of oil every two miles. "Dad helped me learn how to fix cars," he said. "I've had some pretty good buddies around these hollers."
"It wasn't very complicated, not much to worry about," he said.
His unit will participate in some initial training at Fort Dix, N.J.before being sent abroad.
Moments before the order to move out was issued yesterday, Staff Sgt. Anthony Toler of Point Pleasant climbed out of the cab of the truck he was operating and embraced his sons, Brandon and Steve, and his wife, Stacy, in a tearful goodbye.
Brandon climbed onto the truck's running board to give his dad a final hug and handed him the small American flag he had been carrying. The sergeant taped it to the truck's roof before the convoy took off.
The 3664th have seen active duty in state flood and snow emergencies, but the unit has not been in "wartime" since the Cuban Missile Crisis of 1962.