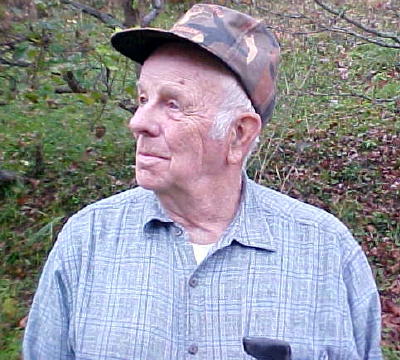 By Bob Weaver
West Virginia Democrats will be "Honoring America" at the annual Jefferson-Jackson dinner in Charleston on November 8.
And Calhoun County will be honoring their Democrat of the Year at the event - seventy-six-year-old Winfield Scott Bailey of Minnora.
Bailey, a lifelong Democrat, said "I've always been a firm believer in the Democrat party, which has always tried to look out for the common working people. I don't have enough money to be a Republican."
Bailey lives with his wife of 56 years, Gae Hoover Bailey, on their farm on Sear's Run near Minnora. They have three daughters, Sharon Groves of Orville, Ohio, Martha Park of Minnora and Joyce Meek of Lexington, Kentucky. Their son, John Scott Bailey, 52, tragically died in a car accident on I-79.
Bailey has been active in community affairs, was a member of the IOOF and a veteran of the U.S. Army.
Bailey said many people told him, he should move away and get "a good job," but he somehow managed to stick on the farm in the narrow valley not far from Route 16. Although he retired from Monarch Rubber Company in Spencer, "farming has been my life, raising food for my family and my neighbors."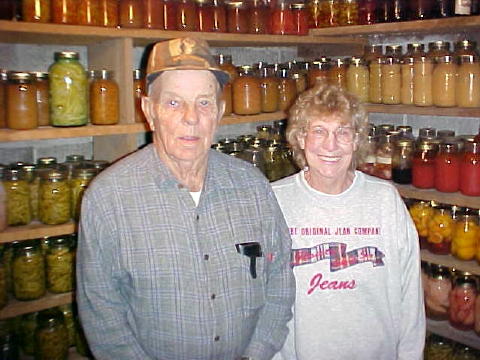 Scott and his wife Gae have an ample cellar of Sear's Run fruit and veggies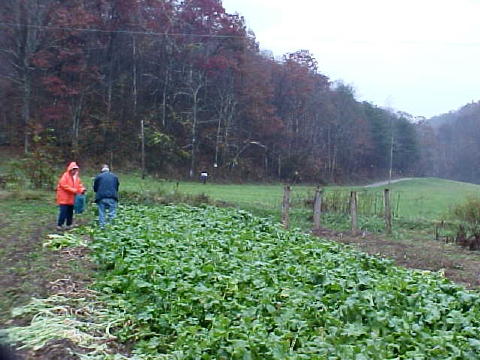 Scott and Gae gather turnips from the turnip patch
Scott Bailey is a descendant of Doddridge Bailey, who settled in Calhoun County in 1855, just in time for his boys to become involved in the Civil War. "Most of the Baileys settled up and down Beech, but then scattered out a little in Washington District," said Bailey. Family historian Ronzel L. Bailey said "The Bailey brothers, without hesitation, elected to go with Dixie....the six Baileys from Calhoun for the most part were in the Virginia 14th Calvary."
One of the clan, James H. Bailey was shot to death in 1863 on his home place on Blown Timber, near the Calhoun-Roane line. He was shot the second time in the arms of his wife, while she was pleading for his life.
After the Civil War was over, most of the Bailey family, not unlike many others who supported the Confederate cause, were denied the right to vote in local elections. Ronzel Bailey wrote "By 1872, they and the Democratic Party were back in control of political affairs of the county," including John and William A. Bailey, Scott's grandparents.
In addition to attending the dinner with his wife Gae, Bailey will have the opportunity to meet leading Democratic politicians and have his picture taken with them. He will be recognized before several thousand Democrats at the Charleston Civic Center.
Bailey was selected Democrat of the Year by the Calhoun County Democrat Executive Committee.