Submitted by Pamela Rogers Garrett

The Calhoun County High School Class of 1983 held their 20th reunion on Saturday, August, 2, 2003 at the Mt. Zion Community Park. After a time of getting reacquainted with old friends we ate a delicious meal prepared by the Mt. Zion Methodist Women.

We gave away prizes to Michele White Mottl, for traveling the farthest, Leonard Sniffin, person who had changed the most, Bobbi Nichols Sanders, person with the most children, Rebecca Arthur Starcher, person with the most grandchildren, and Letisha Stevens Kinder, for being married the longest. Tim Richards won the door prize.

We held an auction with items brought by classmates to help raise money to pay toward the next reunion. The children enjoyed playing a variety of games. Everyone had a great time. We are planning our next reunion for the summer of 2008.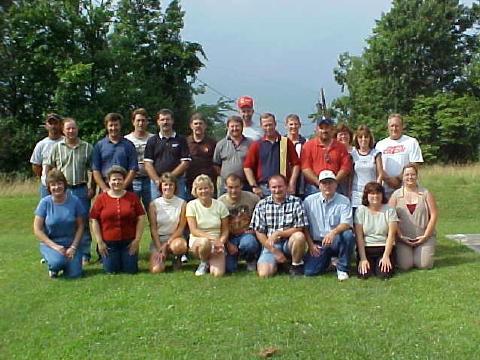 Front Row ( left to right) Pamela Rogers Garrett, Kandas Wagoner Smith, Letisha Stevens Kinder, Terry Jones Clark, Dale Clark, Randall Ball, Freddie Michael Sims, Billie Nichols Ashley, Bobbie Nichols Sanders
Middle Row: Kenna Boggs, Randal Smith, Greg Dawson, Timothy Whipkey, Leonard Sniffin, Cecil Norman, Rebecca Arthur Starcher
Back Row: Randall Dawson, Tim Richards, Junior Poling, Donald Hall, Jeff Stump, Gladys Zwoll Mace, Richard Mace (Not pictured: Michele White Mottl)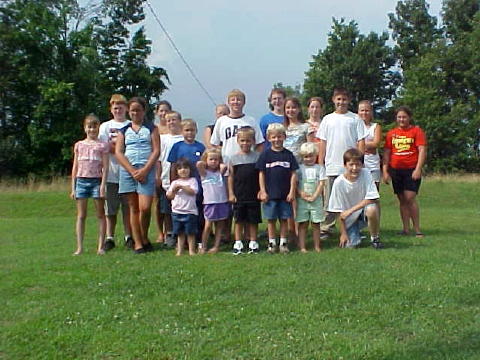 Several children of members of the Class of 1983 attended and enjoyed themselves at the reunion