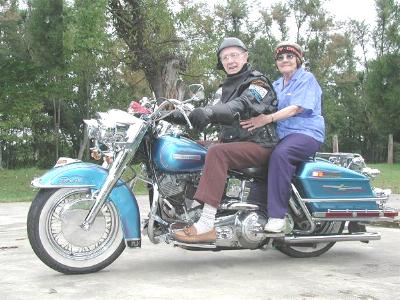 Submitted by Morris Bower
The decedents of Oakey and Esther Gainer of Hog Knob, held their annual reunion on Saturday, September 20, 2003, at the Mount Zion Park.
The peaceful gathering was rudely interrupted by the local chapter of the Harley-Davidson gang, led by, and consisting of it's only two members, Frank Gainer and Louise "Gainer" Rusnak. The gang, it turns out, weren't as mean as they first appeared to be, but only wanted to share some of the delicious food brought in by the Gainer clan.
Those in attendance were Ernestine "Toots" Blankenship, Gail Farrar, and Morris Bower, all of Parkersburg; Steve and Delma Atkinson of Brunswick, Ohio; David L. Ankrom of Dillonvale, Ohio; Frank Gainer, Bryan and Paige Toney, and Jackie Blankenship, all of Grantsville; Louise Rusnak, Kathie Ankrom and friend of Bloomingdale, Ohio; Genny Smith, and Gerald Smith of Macksburg, Ohio; Joann Cunningham of Marietta, Ohio; Dave and Debbie Rusnak with daughter Courtney and friend, all of Canton, Ohio; and James O. Gainer of Williamstown.
The day consisted of a covered dish lunch, followed by visiting and catching up on old times, and lots of picture taking. A good time was had by all.