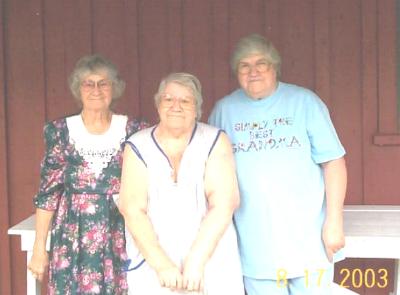 THE STARCHER GIRLS (L to R) Lula Starcher Hughes, Hazel Starcher Hughes and Goldie Starcher Greathouse, daughters of the late Grover and Rosie Adams Starcher of Hur
The Starcher-Adams Reunion was held August 17th at the Mt. Zion Community Park. The day was enjoyed with a covered dish dinner at noon and visiting with friends and family. Junior and Basil Brown played music after dinner, which was enjoyed by all. The next Starcher-Adams Reunion will be held the 3rd Sunday of August at the Mt. Zion Community Park in 2004. Mark your calendars now to attend next year.
U. S. Grant and Harriet Slider Adams resided on Rowels Run and Grover and Rosie Adams Starcher lived on Buckhorn, the backside of the Village of Hur. U. S. Grant Adams at one time had a small store on Rowels Run. Grover Starcher was a well-known citizen of Hur, having been one of the communities molasses makers and was the caretaker of the Hur Cemetery.
Those attending the reunion:
Susan Harris; Jessica Miller of Arnoldsburg; Stephon, Judy, Amber and Jenna Hughes of Aurora, WV; Renee Perkins of Chloe, WV; Lula Hughes of Creston, WV; Debbie Sampson of Davis, WV; Charlotte and Orval Hughes Jr. of Elizabeth, WV; Goldie Greathouse, Donald Starcher, Jessica Hall, Judy and Danny Hall, Arnold Greathouse; Jeff, Kristy, Mikayla, and Kaitlyn Toney; Donald Stevens of Grantsville, WV.
Shirley Naylor, Angela and Asa Naylor, Hazel Hughes, Joe Naylor, Chad Hughes, Heather Hughes of Millstone, WV; April and Colten McWilliams, Stacy Sampson, Linda and Danny Carpenter, Cathy Harvey, Janet, Brandy and Jeanette Starcher, Craig Glerke; Stacie Cain, Keith McLain, Brian McLain, Junior Brown, Basil Brown, Holly Starcher of Mt. Zion, WV; Ronald, Cindy, Alicia and Brittany Greathouse; Sandy Siers, Zach Bailey of Orma, WV.
Scott Bollinger of Parkersburg, WV; Lonnie and Sara Hughes; Steven Keener of Spencer, WV; Don and Pearl Bollinger of Washington, WV; Rebechah Norris, Elizabeth Bollinger of Grove City, OH; Anna Starcher Hudkins of Marion, OH:; Dave and Debi Hahn of Brooklyn Park, MN.