Submitted by Jim Sullivan
An 80th Birthday Celebration was held Sunday at City Park in Parkersburg for Eileen Sullivan of Broomstick Road. Over 85 guests were present.
Family and friends enjoy the celebration
Dorothy Eileen Tolley was born of Friday the 13th of July, 1923 in Leroy, Jackson County. The Daughter of Jennings B. Tolley and Lora Kelly Tolley. She and her husband, the late Earl T. Sullivan moved to Calhoun County in 1953 as a result of a transfer by what was then the Hope Gas Company.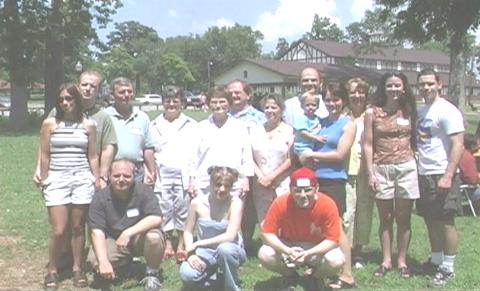 The Whole Clan (Kneeling) Jeremy Mowrey, Susan Sullivan, Michael Sullivan (Standing) Beverly and Matthew Mowrey, Glen Mowrey, Pat Mowrey, Eileen Sullivan, Jim Sullivan, Colleen Sullivan, Tom Sullivan, Aidan and Lisa Roberts, Sandy Sullivan, Ann Sullivan and her FiancÚ Joe Lambert