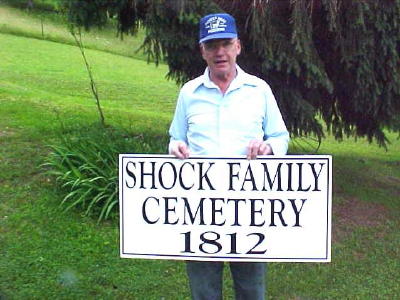 Darrell Shock says he has a new cemetery sign to erect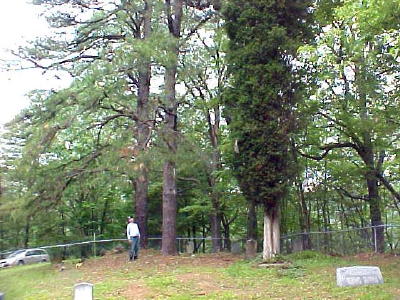 Tall trees and old markers throughout Shock Cemetery
By Bob Weaver 2003
Winding up the mountain road to the Shock farms on Little Rush Run, we were greeted by Darrell Shock, who said "You're a little lost, aren't you?" I told him I started to his birthday party a few days ago, but the trip was interrupted.
There are not many door-to-door sales people up Little Rush Run, between Russett and Stumptown. The narrow rocky road is edged by tall trees and surrounded by meadows and pastures.
One thing for sure, Darrell Shock is proud of his farm. You can tell that about Calhoun people when they refer to it as "the home place." Even more telling is when the conversation switches to farming, family members and ancestors, and the cemetery where most of them are buried.
It wasn't long before Darrell and I drove up the steep hillside to the Shock family cemetery, located on land owned by his grandfather Archibald Shock (1857-1950). Archibald was the son of Robert "Robbin" Shock (1812-1958), who moved to the Rosedale area (a community called Shock) from Greenbrier County.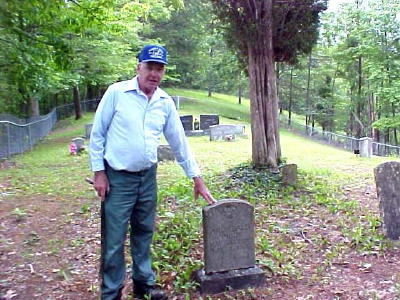 "This is granddad Archibald Shock's grave..."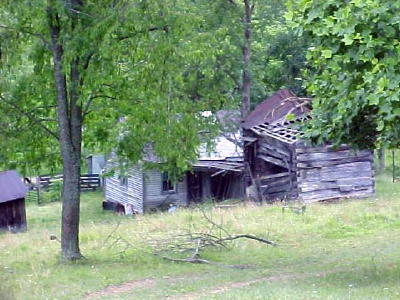 Archibald's old home place stands vacant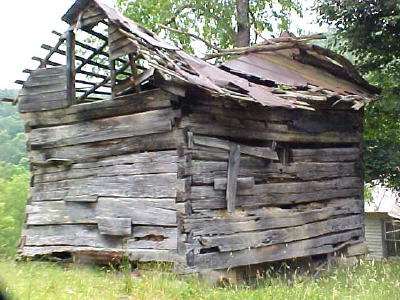 Archibald actually built a log room over his cellar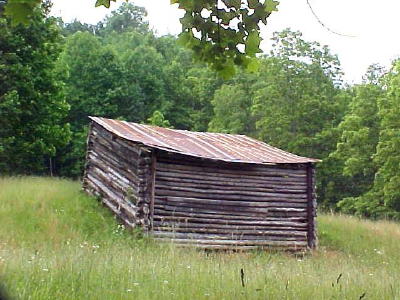 Darrell built this log pole barn by hand in
1983 from trees he cut to clear a meadow
Darrell's dad was Robert Shock (1897-1961), who married Hilda Gherke (1895-1980). Darrell had nine brothers and sisters, Lora, Denzil, Marlene, Arlena, Edith, Dennis, Ruby, Rita and Grace ("Toots"). In addition to Darrell, four are living, Marlene, Ruby, Rita and Grace.
His sister Ruby lives next door. Ruby was just selected the Folk Festival Belle from Calhoun, but she passed us on the way out, going to the store.
Darrell retired early from a 30-year hitch with General Motors in Ohio and returned to the farm in 1983. He has been dedicated to the sod ever since, raising livestock and working daily on the farm.
"My little bout with cancer took a lot out of me, but I keep right after it," he said.
He has long been active in Calhoun farming activities and groups, currently with the CEO's.
Many of Darrell's friends organized a surprise 72nd birthday party for Darrell a few weeks ago (May 15). "It really caught me by surprise," he said.
Most notable about Darrell - he is full of spirit, and upon leaving, you will likely feel better than when you came.