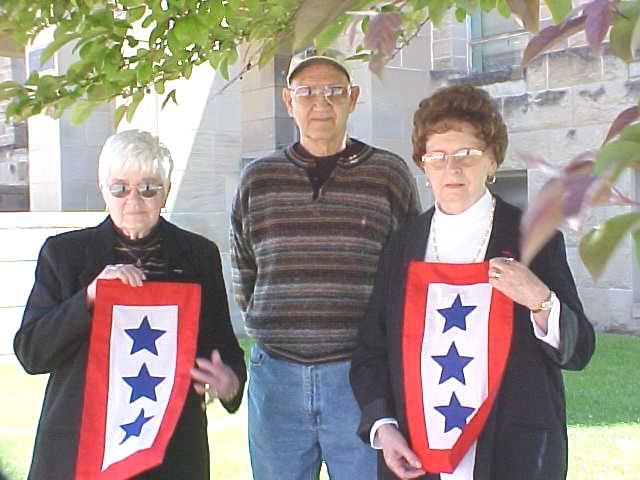 By Bob Weaver
Two Grantsville families have received three-star service flags from the locally formed "Behind America's Best," a military support group. The Virden and Godfrey families have three family members each in military service. In fact, they really are the folks behind America's best.
Not unlike other Calhoun families who joined the military in peacetime or answered a call to duty in national crisis, they are proud of their children.
"We are proud to give them some recognition," said Phyllis Malona, a member of the BAB group, which is currently shipping supplies to Calhoun soldiers in Iraq.
Appalachian citizens have the record for supporting America's military efforts, particularly when the chips have been down.
Catherine Virden, widow of the late mayor of Grantsville, Joe Virden, has three sons in the United States Navy. Joe Virden was a Calhoun educator and football coach.
Lt. Commander Roy J. Virden teaches in the Naval War College at Newport, Rhode Island, a graduate of Calhoun High School in 1978.
Chief Petty Officer Michael J. Virden is currently associated with the Navy Seals program and is stationed at Little Creek Naval Base, Virginia Beach, Virginia. He is a 1984 graduate of Calhoun High School.
Petty Officer 1st Class Robert D. Virden works for naval communications, currently at Ft. Meade, Maryland. He was a 1986 graduate of Calhoun High School.
"I was always proud of my sons when they were growing up around here, and they have made me even prouder," said Catherine Virden.
Don Godfrey and his wife Evelyn Starkey Godfrey glowed with pride while speaking about their military offspring. Godfrey, a 40-year-employee of the Town of Grantsville, said their oldest military son, Army Col. Larry James Godfrey, has served 30 years in many conflicts around the world, from Vietnam to both Gulf Wars.
Col. Godfrey is a medical doctor and is currently stationed in Kuwait, said Mrs. Godfrey. He was a graduate of Calhoun High School in 1967.
The Godfrey's second son, Sgt. 1st Class Rodney Keith Godfrey has been a full-time National Guardsman for 23 years, currently in Wilmington, Delaware.
Their grandson, Staff Sgt. Phillip Godfrey, is in the U. S. Air Force, stationed in Guam. He is the son of Col. Godfrey.