A TRILLION DOLLAR WRONG-REASONED WAR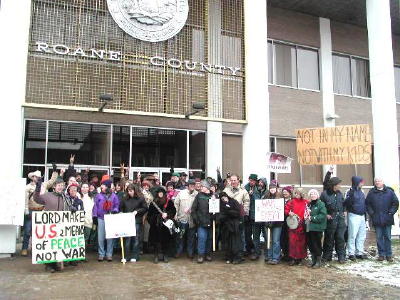 Peace Gatherers rally in Spencer
By Bob Weaver, February 2003
Millions took to the streets of Europe to protest against a rush to war with Iraq in huge demonstrations later repeated in the United States.
West Virginia Patriots for Peace and the Roane-Calhoun Peace Coalition held a Peace Gathering in front of the Roane County Courthouse yesterday morning, with over 100 attending during inclement weather.
Charleston Resident Rev. Jim Lewis, a former Marine, told the gathering "Many people across this land are against this war," saying most American's don't feel right about it.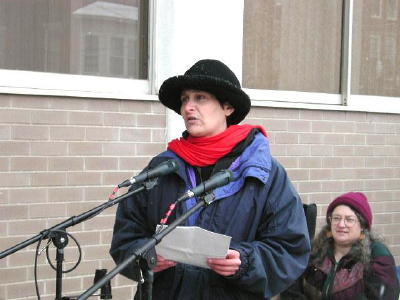 Sister Jane Francis offered the prayer of St. Francis - "Lord make me an instrument of your peace...." - asking God to protect our soldiers from war and bring them home now. She said the peace mission in America is one of "love and compassion" for the human race.
"We are facing a terrible crisis that may alter history. This is a war about oil," that has been linked to terrorism. "Half the population of Iraq is children," in a country that an evil dictator has reduced to poverty and is still in shambles from the Gulf War," said Sister Francis.
Former Calhoun County Commissioner and Vietnam veteran, Larry Cottrell quoted from Senator Robert Byrd's speech this week regarding the "haunting silence in the U. S. Senate," Byrd one of the outspoken critics of the action.
Calhoun resident Carl Shaw asked "Is mass death and destruction worth the oil?" He said if we preemptively attack Iraq, we will lose whatever credibility we had as a civilized nation.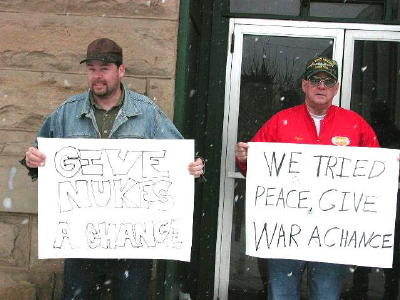 Protesters against Peace Gathering in Spencer
"We have heard the reasons given for this war, and they don't make sense. We don't think invading Iraq will make the world one iota safer from a terrorist attack. In fact, we believe the opposite is true," said Vivian Stockman.
"The causes are faulty," she said.
Jude Binder gave a moving performance representing a grieving mother, according to Sarah Hotchkiss, one of the organizers. The Calhoun County Kitchen Band led the assembly in "Give Peace a Chance." In London Saturday, police said the turnout was 750,000, the largest demonstration ever in the British capital, with organizers putting the figure over one million. Half a million protested in Germany.
CNN said that the turnout in Rome where Prime Minister Silvio Berlusconi has publicly backed the stance of U.S. President George W. Bush -- was also said to be one million.
Later on the scenes were repeated in the U.S. with crowds of antiwar protesters jamming into downtown New York.
The biggest demonstrations seen in Europe for years were part of marches by millions across the globe, from the Antarctic to Iceland.
"This war is solely about oil. George Bush has never given a damn about human rights," London mayor Ken Livingstone said in London.
"It is based on false intelligence claims," he said.