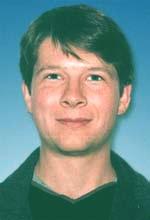 Jedediah Purdy was born and raised in Calhoun County and is the author of For Common Things: Irony, Trust and Commitment in America published in 1999. His parents still own a farm near Chloe, and his mother Deidre now practices law in Charleston

His new article Suspicious Minds appears in The Atlantic (Jan-Feb, 2002). He expresses concern that Americans have a steadily declining faith in one another - a loss of confidence.

Purdy's mother, an activist against school consolidation, was at the center of a disturbing school battle in Calhoun County, where the issues turned into name calling and character destruction.

Even Jedediah was drawn into the affray by wrongful accusations of him practicing witchcraft, but he still speaks well of Calhoun County.

Young Jed spent his childhood exploring the woods and meadows and working the farm along with his parents and younger sister, being home taught.

He attended Calhoun County High School for a year, but found that he did not fit well and did not understand the realities of teenage pecking orders. Few teens shared his interests in politics and justice, and he left Calhoun at age fourteen to attend Phillips Exeter Academy.

He returned to West Virginia, working as a carpenter and getting involved with environmental politics, and then left to attend Harvard University, graduating summa cum laude in 1997 with a degree in social studies.

Purdy joined the writing staff of The American Prospect and enrolled at Yale University, studying law and forestry. His articles range on subjects from irony in America to the fate of modern agriculture, environmental sustainability, and the role of work in American culture.

Purdy's book generated an immediate media firestorm as critics rushed to mock or to praise him. Purdy talked about "growing up in West Virginia in a Calhoun County community of farmers, carpenters, artists, thinkers, and activists."

Purdy was recently graduated from Yale University, studying environmental and constitutional law. He continues to write regularly for numerous magazines and other publications and has been a commentator on National Public Radio.

After graduating from Yale Law School in the Spring of 2001, Purdy joined the New America Foundation to write about the interaction of politics and globalization, and the myriad ways in which this is reshaping our political universe.

His writing explores how this new approach to politics differs from its predecessors, illuminates its distinctive limits and possibilities, and seeks to provide a coherent set of guiding principles for the development of public policy in the Information Age.

Purdy is also interested in a broad range of related projects, including the growing influence of non-governmental organizations in the political process, the future of environmental policy, and international development.